---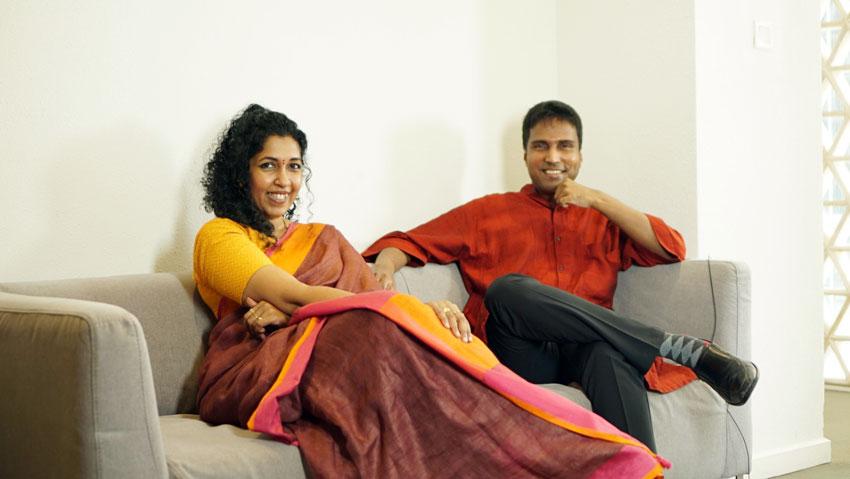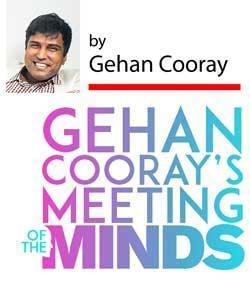 The guest on my video talk show today is someone who has collaborated with me for so long, that we ourselves can scarcely recollect when our professional comradeship gave way to a personal friendship. We first got to know one another in the year 2000 when Soundarie came on board as the Music and Vocal Director of my alma mater St. Joseph's College's production of THE MIKADO - the famous Gilbert & Sullivan operetta, in which I at the age of 12, played one of the principal characters. Up until then, I had only known her work as a BRILLIANT PIANIST, and so I was very pleasantly surprised to discover what a mellifluous and psychologically resonant SINGING VOICE she had as well; which isn't something she typically showcases to the public, but which we were fortunate enough to enjoy when she demonstrated passages from the operetta score to the Josephian Cast.
Since then, Soundarie has followed my own vocal trajectory as a Singer, making it a point to encourage and commend me four years later, at the age of sixteen, when I transitioned from a Soprano to a Baritone, and performed my first Baritone solo at the Bishops College Auditorium at one of Jith Pieris's variety concerts. It meant so much to me at the time that a Senior and Acclaimed Musician like her would express her admiration to a teenager. I had no idea at the time, that she and I would do many concerts together in the years to come, at the Bishops College Auditorium and the Lionel Wendt Theatre; our most recent collaboration being a 2020 fundraiser concert for the Rotary Club. We make it a point to perform a wide variety of music at each of our shows, traversing a very wide spectrum of genres from Classical and Opera through Broadway and Jazz to Pop and even Gospel. In fact, I asked her during our talk show - which can be viewed on Facebook, YouTube, Instagram and Twitter today on the Daily Mirror Online platform - what it is that enables certain musicians and singers like the two of us to exercise VERSATILITY, versus sticking to just one musical / vocal genre as so many do across their lifetimes. Soundarie firmly believes that it is our CLASSICAL music / singing training that provides a rock-solid foundation upon which to explore other genres as well.
In other words, a person who has developed their vocal and musical skills upon a primarily POP music foundation since childhood, for instance, will find it very very difficult to cross over to the Classical side of the spectrum as an adult, whereas someone who has trained as a Classical pianist or a Classical singer from their youth, as Soundarie and I were, would find it very much easier to cross over to the Pop genre when required, because Classical Music is the bedrock of all Western Music. In fact, Soundarie asked me to demonstrate to the audience, during our show, how I could sing any given song in an OPERATIC fashion, on the one hand, and in a JAZZY style, on the other hand, as required, for my Classical vocal technique enables me to do both, without harming my vocal cords. The song I chose to perform this demonstration with was "Fly Me To The Moon", which is an old favourite of ours. This does not mean that we can be experts at everything of course, as Soundarie mentioned at a different point on the show. We each have our areas of expertise (i.e: Classical / Opera or Broadway / Musical Theater for example), but having a Classical foundation is what enables us to expand our repertoire to multiple different genres.
The same way I studied Psychology up to a Graduate degree level on top of Drama and Cinema at the University of Southern California, Soundarie was a Law Graduate at the University of of California, Berkley, where she specialized in Entertainment Law and Intellectual Property. These are areas that I know all too well, being a resident of Los Angeles where I work in the entertainment industry, although Soundarie was able to provide the expert, fine-tuned details for the benefit of our talk show audience. For instance, we talked about the misapprehension that many people especially in Sri Lanka seem to have that a PROFESSIONAL Singer / Musician or a Filmmaker / Director just decides arbitrarily one day that they want to perform someone's piece of music, or adapt someone's script or novel, without obtaining the requisite rights and licenses from the Copyright holders. For any piece of music, or any piece of literature, is someone's INTELLECTUAL PROPERTY, the same way any piece of furniture, or any piece of jewelry, is someone's PHYSICAL PROPERTY. It is absolutely crucial that people don't abuse, steal, or misappropriate another person's Intellectual Property, which sadly happens all too often in Sri Lanka especially, where Creative people are exploited to a degree that can only be described as callous. This used to happen even in the U.S, back in the day, with such luminaries as Judy Garland, but fortunately there are very strict laws in place right now, to prevent this from happening.
For instance, when I adapted my screenplay for my Oscar eligible feature film THE BILLIONAIRE from a George Bernard Shaw play ('The Millionairess'), I had to get a license from the Society of Authors in London which represents Shaw's literary output, and I have to pay them royalties going forward as well, even though I own the intellectual property of my adaptation and my film themselves. I hope my readers are able to follow what I'm saying, and if not, you will get a clearer idea if you tune into my show online today. Soundarie said that even here in Sri Lanka, the very least a person can do, if they perform someone else's song for instance, is to acknowledge the original artist and the songwriter, even if they are not in a position to pay royalties and such. There is simply no excuse for not doing the right thing. Ethics apply to the Creative and Performing Arts just as much as they apply to all other fields in the world.
This entire article was only a teaser trailer for episode number three of GEHAN COORAY'S MEETING OF THE MINDS with the one and only Soundarie David Rodrigo. I have every confidence that everyone in Sri Lanka who is a lover of Music and the Entertainment Industry as a whole will enjoy my discussion with Soundarie tremendously, we are both firm believers that Intellect and Artistry need to go hand in hand at all times, which is no doubt one of the main reasons that we have been so successful in our collaborations for so many many years.