---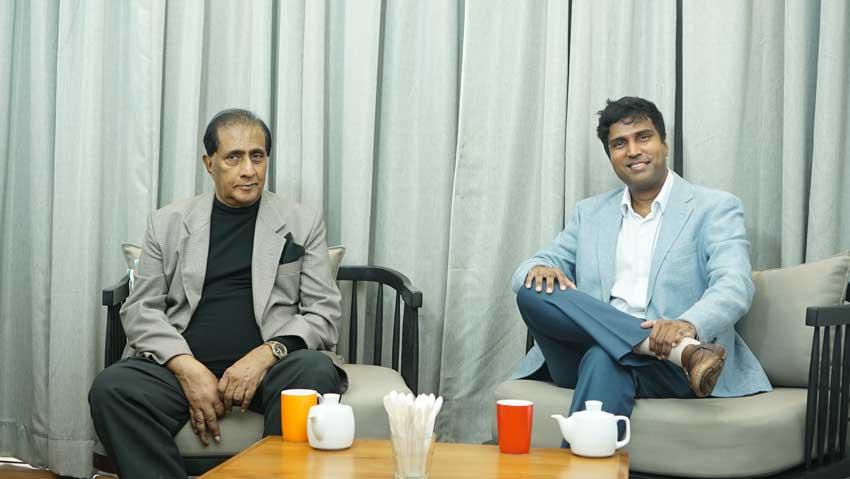 Jith Pieris is one of our beloved neighbours down Ward Place - living literally right across the street from us, which has made it possible for me to converse with him at length for untold hours over the many, many years that I've known him. We discovered within a matter of minutes that we were kindred spirits, when our mutual Ward Place neighbour and my former music teacher Menaka de Fonseka recommended me to Jith as a Baritone Soloist for his 2004 concert 'Stars on Parade'. I was only 16 at the time, and we bonded instantaneously over our passion for Old American Musical Theatre, which is the subject with which I begin today's episode of my online video talk show. In fact, this episode epitomizes the title of my series, given the countless MEETINGS OF THE MIND that Jith and I have enjoyed just between the two of us. We are two old souls, who refuse to discard the things that are beautiful and noble about the past, in order to conform to the techno-driven trends of the present, although we both have tremendous hope for the future, as you will discover when you tune into our show today.
To start with the Past - when most people hear the words "Old Musicals", they think of 'The Sound of Music' or 'My Fair Lady', which were created in the late 1950s, whereas the Broadway hits that Jith and I hold even closer to our hearts go back to the 1920s and even earlier! Long before Rogers & Hammerstein became a duo, for instance, was Jerome Kern, whose musical SHOW BOAT integrated Song, Dance, and Dramatic Complexity in a way that was unprecedented, and hasn't been replicated since, in my personal opinion. Songs like 'Can't Help Loving Dat Man' and 'Old Man River' are from "Show Boat", which juxtaposes unforgettable melodies against a backdrop of brutal Racial discrimination. 'Old Man River' even draws on the sentiment and timbre of the old Negro Spiritual Songs, which Jith also cherishes as a part of American History and Culture. What Jith and I believe is that Enlightenment and Progress are imperative to make the future a fairer place for all living beings on the planet, but we must take care not to forget about the Past at the same time, which unfortunately so many people the world over are so quick to do these days. As a Citizen of America, myself, it has grieved me how seldom we see the old musicals by Jerome Kern, Irving Berlin and George Gershwin performed on Broadway, when they constitute the very heart of America's artistic and musical heritage the way Jith and I see it.
I have spent almost my entire adult life in America, the same way Jith spent almost his entire young adult life in England (although he also spent a few years in the U.S). We talk today about how living overseas for extended periods of time broadens one's mind and cultivates a much more egalitarian worldview, as opposed to spending most of one's life in the town or place of one's birth, which tends to foster a decidedly parochial and limited mentality (unless of course the person invests a lot of time in reading and educating themselves). At the same time, we reflected also on how residing in overseas countries makes a person appreciate the History and Culture of one's native country in a way that one otherwise wouldn't, as our "foreign" friends will inevitably ask us to describe the special and distinguishing features of our motherland. As far as Natural Beauty goes, Sri Lanka is certainly a PARADISE ISLAND, and one of the things that grieves Jith and I the most is the callous destruction of our natural resources in the 21st century - starting with our TREES and other Floral life - although we both console ourselves with the knowledge that the younger generation is much more sensitive to the necessity of protecting the Environment.
Speaking of the younger generation, it is truly astounding how many young people Jith has helped, taught and mentored over the past so many decades, and their gratitude towards him is eternal. Running parallel to that is the profound esteem and regard that the older generations have for Jith, which should be no surprise considering that his career spans half a century! It is not only people in the Theatre and Entertainment industry who value him, but even the CEOs of multi-national corporations, some of whom have invited him to join their Boards of Directors, having ascertained his unfailingly keen eye for detail, and his mental acumen. "Harmony and amity to everything around him," wrote the illustrious journalist Gwen Herath once about Jith, "a gentleman par excellence, genial and winsome, bright and cheerful in everything he is involved in." Who wouldn't want someone like that on their company board? The Rotary Club of Colombo, which has also worked closely with Jith, wrote to him once in the late 1980s saying that their own attempts to recruit school children for a Rotary sponsored Theatre Workshop with foreign professionals "did not meet with any degree of success", but that as soon as Jith reached out to the Divers School Principals, the response was overwhelming. I have seen letters from a past Chairman of the British School of Colombo, and a Principal of the Overseas Children's School personally commending Jith on everything from his "professional, straightforward attitude" through his "high standards" to the "many hours of hard work" he poured into school productions - hard work that I daresay contributed to his tragic strokes (although Jith would probably change nothing about his past).
After directing the students at St. Lawrence's Convent in excerpts from ROMEO AND JULIET a few years ago, for the All-Island Inter-School Shakespeare Drama Competition, the girl who played Romeo wrote to Jith saying his help was "beyond" what they "could have ever expected", and that "no one would have tolerated" the girls the way he did. Indeed, Jith's patience with youngsters and his understanding of the youthful temperament never ceases to amaze me. We talk on my show today about the importance of AUTHENTICITY when it comes to both directing and acting in a given production - I chose 'Romeo and Juliet' in fact, to illustrate this point, for Jith has often talked about the fact that Juliet is but a fourteen-year-old girl at the end of the day, even though certain actresses who are decidedly older sometimes portray her as sexually mature and savvy, which is entirely wrong. Jith emphasized that there is nothing wrong with an adult playing Juliet, of course, provided that they are willing to represent both the physical and psychological attributes of a fourteen-year-old. One of my own favourite actresses, Norma Shearer, did this exquisitely in Vintage Hollywood depictions of 'Romeo and Juliet' back in 1929 and 1936 respectively, and Jith and I both wish that more young people today would study the great actors and actresses of old, who were trained in the Classical fashion, and who were not brazenly sexual as so many modern actors and actresses are. For we have to hold onto what is tried, tested and true from the past, even as we sail into the possibilities of the future.