---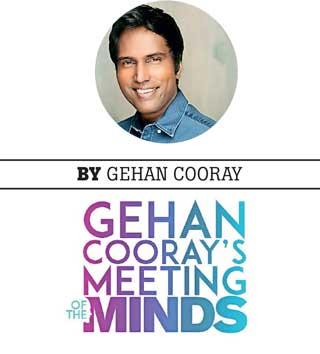 Unlike all previous guests on my show, Chandran Rutnam is someone I befriended as an Adult. My mother introduced me to him in 2010, not long after I had graduated from the University of Southern California (USC), where I studied Drama, Psychology, and Cinema. Chandran himself has studied at USC, which has the very best Cinematic Arts school in the whole world, attended by none other than George Lucas, whom Chandran had the chance to work with and befriend over the course of his extensive film career. I began today's episode of my video talk show by asking Chandran to describe the beginning of his professional and personal relationship with ANOTHER Hollywood Giant, the world famous Steven Spielberg, who has been photographed with Chandran as recently as a few years ago, hugging him with the utmost affection at the Beverly Hilton hotel, where we film industry professionals attend different Hollywood events over the course of each year. There is actually a famous story about Spielberg, who always wanted to study Cinema at the Alma Mater that Chandran Rutnam and I share, USC, and yet, the University of Southern California rejected his application and didn't grant him admission. Nevertheless, Mr. Spielberg's regard and esteem for USC was so profound, that he donated millions of dollars to the university after becoming a living legend. This goes to show you how privileged both Chandran and I were to study at the world's finest film school.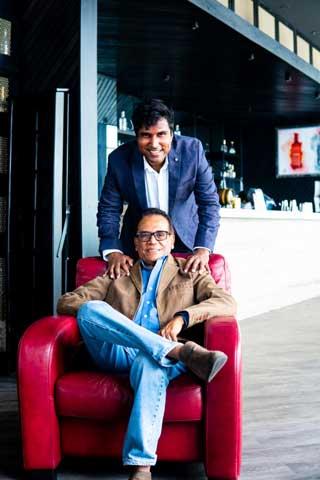 Chandran has always been one of the most frank and straightforward people in the world, and in fact, he did touch on the subject of PRIVILEGE on my show. He readily admitted to coming from an affluent family, which is something else that Chandran and I share in common, and yet, because this is no secret, many people in Sri Lanka ERRONEOUSLY believe that this made the journey easy and simple for the two of us. Nothing could be further from the truth, and anyone who watches my show today will learn about the DEGREE OF HUMILITY that is required when one learns the ropes in the film industry, and starts working in the medium. At one point, a very young Chandran had to actually sleep in a VILLAGE HUT on the ground, for instance, while being the Assistant to the Prop-master of the Classic Hollywood film 'Bridge on the River Kwai' which was shot in Sri Lanka. Coming from a privileged family in Colombo meant NOTHING to those filmmakers, the same way being a member of the Jetwing family means ABSOLUTELY NOTHING in the United States, where I have had to reach the heights I did from the ground up, just like Chandran. No one rolled out the red carpet for us when we started working in Film. Chandran actually worked as an *EXTRA* in a 1958 Sophia Loren / William Holden film called 'The Key', an experience he describes most vividly on my show, to the point where the viewer feels like they are right there on location, shooting with Chandran.
I asked him to elaborate on his rather extensive friendship with William Holden, which started when Mr. Holden was shooting 'Bridge on the River Kwai', and blossomed further while making 'The Key' in Great Britain. The 'Bridge' crew had been British, and so Chandran had flown to England himself, after 'Bridge' was shot. How many filmmakers can say that they worked with the likes of not only Steven Spielberg, George Lucas and Harrison Ford who are superstars of the present, but also Classic Hollywood Legends like William Holden (whom I love best for his role opposite Audrey Hepburn in 'Sabrina') and Sir David Lean (best known perhaps for 'Lawrence of Arabia')? Certainly no one in Sri Lanka besides Chandran. And yet, Chandran has absolutely no ego, and in fact, he talked about how all these Cinematic Giants were some of the nicest, kindest, and most affectionate human beings he had ever met. I think it is safe to say that many actors, actresses, and filmmakers in Sri Lanka can learn from that!
"Anyone who watches my show today will learn about the DEGREE OF HUMILITY that is required when one learns the ropes in the film industry"

For it is truly pathetic when a bigger fish in a small pond thinks the world of themselves, while the biggest fish in the ocean out there remain so down-to-earth. I myself have experienced firsthand, while living in Hollywood, that the most famous celebrities are actually the nicest and most "human", overall. Isn't that interesting? Just let the psychological implications of that sink into you.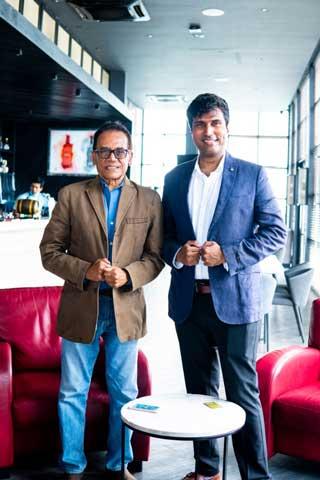 Chandran was also tremendously instrumental in focusing my mind on the process of editing my Award winning feature film THE BILLIONAIRE down to a length of under two hours. My original cut of the film was two hours and forty minutes, which I shared with Chandran, and it was thanks to him that I realized how essential it was to the success of the picture that I trim it down to its current length of one hour and fifty-six minutes. Thus, everyone who attended my Red Carpet premiere last week remarked that they didn't even feel the time passing! For judicious editing is absolutely crucial for any film, and Chandran drilled this into my head. THE BILLIONAIRE is currently being screened in Cinemas across Colombo and its suburbs, for a period of at least two weeks, and when I won the Best Comedy Feature Award at the Burbank International Film Festival last September, the congratulations that I received from Chandran were the heartiest!!! In a way, Chandran has been like an Artistic Godfather to me over the past so many years, and when THE BILLIONAIRE became Oscar Eligible and Oscar Shortlisted this year, the same way Chandran's 'According to Matthew' became Oscar Eligible ad Oscar Shortlisted a few years ago, I felt like our artistic kinship had been forever cemented in stone. When Chandran told the Daily Mirror last week that he considered me a "friend", and that I addressed the topic of Asexuality in my film "with frankness and with class", I felt like I had received the loftiest and most touching of compliments and praise.
I hope that film lovers both young and old tune into today's episode of GEHAN COORAY'S MEETING OF THE MINDS with Chandran Rutnam on Daily Mirror's online platforms (Facebook, YouTube and Twitter), while also going to see my feature film at their nearest Colombo cinema. The Art of Cinema has always been as close to Chandran's heart and to my own as any family member, and I concluded my episode today by asking Chandran to give aspiring young filmmakers his expert advice, which he dished out so generously and so lovingly, that every budding filmmaker watching the show will feel like he is THEIR Artistic Godfather as well!