---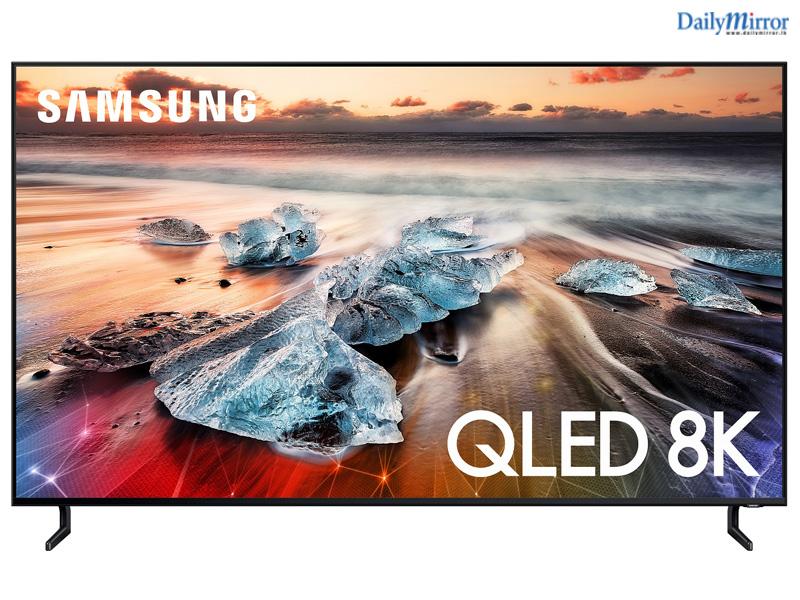 In keeping with the rising aspirations amongst local consumers to experience the latest Samsung TVs, Samsung Sri Lanka has unveiled the QLED 8K television, which offers the most immersive and dynamic screen yet. Launched across all international markets, the QLED 8K is creating waves globally for its truly immersive picture, sound and AI capabilities. There are multiple reasons why discerning TV users in Sri Lanka need to own the first QLED 8K in the world. Just as the human eye takes in what is in front of it with no obfuscation and object depth differentiation, so the 8K QLED delivers scenes in detailed clarity thanks to the intelligent reactivity of 8K AI Upscaling. In more exciting news from Samsung, the electronics giant became the first to offer the new Apple TV app and AirPlay 2 on all 2019 Samsung Smart TVs and select 2018 models. Samsung customers are now able to enjoy Apple TV channels and iTunes movies and TV shows on Samsung Smart TVs.
Stunning Realism of QLED 8K
The realism offered by 8K AI Upscaling makes all the difference in rendering images as if they were really in front of you. 8K AI Upscaling harnesses machine learning to transform lower quality image contents into vivid 8K resolution. Not only can you watch content developed in 8K on the QLED's 33-million-pixel screen, but with the 8K AI Upscaling feature, you can also watch your favorite videos from any resolution – from SD to 4K – transformed to as close to-8K quality as is possible, depending on the source, with breathtaking results.

8K AI Upscaling allows viewers to enjoy their favorite videos originally presented in SD, FHD and UHD in 8K (7,680X4,320) super high-quality resolution. On other higher definition screens, playing a low-definition video results in pixelation, image blurring and an overall unsatisfying viewing experience.
Reflecting the way human object perception registers objects that are closer to us in more detail, 8K AI Upscaling carefully adjusts content to give ultimate image depth thanks to the advanced resolution process engine. Similarly, camera pans and sweeps across an environment on-screen are optimized to replicate the way human eyes react to changing stimulus – removing any blur from the video. The effortless pixel-less rendering of the images also contributes to an immersive viewing experience, and the peak 4,000 nit (Quantum HDR10+) brightness of the QLED 8K accurately expresses images in all light conditions – as they are intended to be seen.
Greater Legibility
Offering sharper text and improved legibility, the new TV does away with line 'noises' (transmission disturbance that blurs details and caused unwanted digital static), usually the most disruptive impediments to a satisfying viewing experience. As the input images have lower quality, letter outlines on captions and subtitles become more blurred. However, 8K AI Upscaling intelligently streamlines thick and rough outlines so that they are as sharp as possible, delivering clearer letters on the screen worthy of a high definition television experience. This aspect of the upscaling is crucial to viewers, as the improved legibility of text decreases eye strain.
Deeper Contrasts
With 8K AI Upscaling, denser contrast expression means that object details inside of a black background become more pronounced compared to in their original source resolution, heightening a realistic viewing experience. In order to counteract any light spreading across dark-hued content, a common problem in lower-resolution videos, the Upscaling's intelligent algorithms analyze black video patterns in order to transmit the perfect black; the quality of this deep black is on a par with content originally produced in 8K resolution.

8K AI Upscaling intelligently analyzes not only 4K but also SD, HD, FHD and any other video resolutions in real-time and any necessary features are supplemented. Textures are restored with delicate detail offsetting, any visual static is automatically eliminated by video stream compression, low-definition edges are sharpened to avoid blurriness, and any discontinuous lines are restored. The key element to this is machine learning. Thanks to the QLED 8K's inbuilt 'Quantum Processor 8K' technology, the intelligent algorithm learns from the differences found and makes note of the correlation between low-definition and high-definition content.
AI & Learning
8K AI Upscaling is based on artificial intelligence smart learning, so through usage, it will develop and adapt with each video upscale as more video data becomes available to the system to be analyzed. But even from the first usage, the QLED 8K provides the most comfortable color, light and texture balances to provide the optimum viewing experience for each user.
Enjoy Apple TV app and AirPlay 2 on QLED 8K
Fully integrated into Samsung's Smart TV platform, users can simply select the Apple TV app icon to access all of their iTunes movies and TV show purchases and browse more than 100,000 iTunes movies and TV shows to buy or rent, including titles available in 4K HDR, in pristine picture quality. Customers around the world can also subscribe to Apple TV channels within the Apple TV app — paying for only the ones they want — and watch on demand directly in the app. Samsung Smart TV users will be able to enjoy Apple TV+, Apple's original video subscription service, in the Apple TV app across the same model lines when the service launches this fall. With AirPlay 2-enabled Samsung Smart TVs, customers can now also effortlessly play videos and other content from their iPhone, iPad or Mac directly to their Samsung Smart TV. The Apple TV app will work seamlessly with Samsung's Smart TV Services, such as Universal Guide, Bixby and Search, to create a consistent experience across Samsung's platform.
Samsung was ranked the No. 1 Electronics brand by Brand Finance Lanka, the pioneering brand valuation and strategy firm, in its 16th consecutive review of Sri Lanka's most valuable and strongest brands in LMD's Brands Annual. This triumph reflects Samsung's brand strength, product innovation, superior quality and service leadership in the industry which has won people's hearts.