---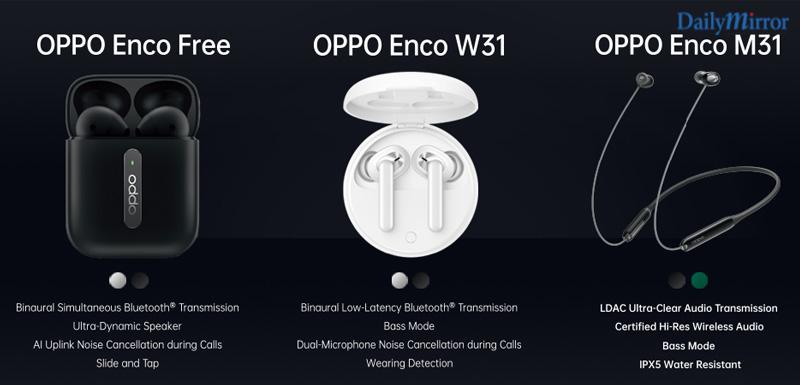 OPPO has launched three new headphone models in Sri Lanka: OPPO Enco Free, OPPO Enco W31, and OPPO Enco M31. These products are part of OPPO's mission to "bring outstanding user experiences to Sri Lankan consumers through innovative, high-quality products."
OPPO Enco Free: "A Perfect Pair for Your Smartphone"
The OPPO Enco Free headphones are OPPO's first true wireless audio product since its entry into the IoT business and claiming as "more than a smartphone company" in 2019, positioned as the most smartphone-oriented of the brand's headphones.
The headphones use binaural low-latency Bluetooth transmission to achieve latency as low as 120ms (laboratory data using Reno3 Pro 5G version), among the lowest in the industry. Lower transmission latency corresponds to higher audio-visual synchronization and less connection interference. The headphones are also compatible with almost every smartphone on the market.
In terms of audio quality, OPPO Enco Free are the first true wireless headphones embedded with ultra-dynamic speakers among the industry. The 13.4 mm dynamic speakers use dual magnetic circuits and an FPC lever, which are technologies normally reserved for high-end full-size speakers, ensuring heavy drumbeats and powerful lows are precisely reproduced. Another industry first in these headphones is their magnalium-titanium composite diaphragms. These features make for a detailed and powerful audio experience all together.
Aiming to improve the clarity of voice transmission during calls, OPPO has incorporated dual-microphone beam-forming and a deep learning–based AI noise reduction algorithm into these headphones. The technologies can distinguish users' voice and transmit it clearly, blocking out all other surrounding noise. OPPO Enco Free are available in White and Black.
OPPO Enco W31: "Unleash the Power of Music"
The OPPO Enco W31 headphones are a more economical alternative that also uses binaural low-latency Bluetooth transmission and is compatible with most smartphones. On top of that, with extra-secure in-ear
design, stronger water and dust resistance, these headphones are introduced as "keeping up with even the most active and dynamic users."
The OPPO Enco W31 headphones use dual composite thermoplastic polyurethanes (TPU) and graphene diaphragms designed to improve frequency response. Two audio modes are available: for pop and classical music, a balance mode that evens out audio across the frequency range; and for rock and EDM, a bass mode that enhances low frequencies.
In addition, the headphones contain anti–wind noise chambers, two internal high-sensitivity microphones on each side, and an environmental noise cancellation algorithm designed to block out background noise during calls. OPPO Enco W31 are available in White and Black.
OPPO Enco M31: "Pure Bass on the Go"
The OPPO Enco M31 headphones are OPPO's second neckband-style wireless headphones, following the OPPO Enco Q1 headphones. The headphones are classified a high-resolution audio product.
The OPPO Enco M31 headphones are the first in their price range to have High-Res Wireless certification. Bluetooth 5.0 and LDAC enable transmission speeds of up to 990 kbps. Audio quality relies on 9.2mm full-range dynamic drivers, PET titanium composite diaphragms, and independent bass chambers. The resulting audio is balanced across the full frequency range, with clear high frequencies, rich mid-range frequencies, and powerful low frequencies.
The headphones also incorporate an AI algorithm intended to reduce background noise during calls.
The neckband of the OPPO Enco M31 headphones is made of shape-memory metal covered in comfortable liquid silicone rubber. The headphones are available in Black and Green.
All three headphone products are now available for purchase in Sri Lanka from 15th June, starting at LKR 9,900. "These headphones represent the best OPPO has to offer in technology and aesthetics," said OPPO Sri Lanka CEO Bob Li. "This is only a taste of the exciting things we have in mind for the Sri Lankan market."