---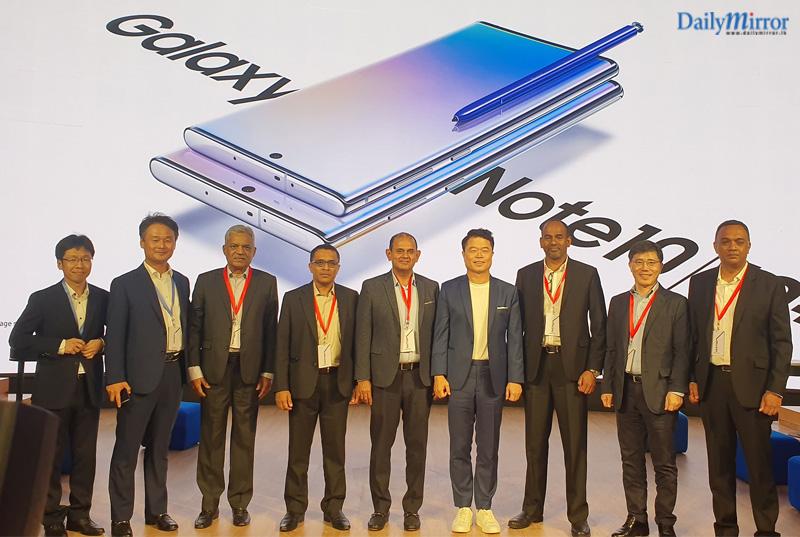 (Standing left to right) YK. Hwang - Senior Professional, Mobile Business, Samsung Sri Lanka, Kevin SungSu YOU - Managing Director, Samsung Sri Lanka, Nirmalan Poothathamby - Director Commercial, Softlogic Retail, Harsha Wijekoon - Deputy General Manager, Damro, Ranjan Perera - Executive Director, Softlogic Holdings PLC, HyunChil Hong - CEO, Samsung Electronics, Janoda Thoradeniya - CEO, JKAO, Harrison Ho Kim - Chairman, Singhagiri, and Vajira Tennakoon - Sales Director, Singer
Galaxy Note10, a new line of premium smartphones that combines elegant design with powerful performance and productivity tools to help users make the most of every moment will be available starting August 30th. Inspired by a generation that flows seamlessly between work and life, the Galaxy Note10|Note10+ gives users the freedom to work the way they want and showcase their creative spirit, all on-the-go.
"From the very beginning, the Galaxy Note has stood for the best-of-the-best technologies and features." said Kevin SungSu YOU, Managing Director, Samsung Sri Lanka. "Every element of the Galaxy Note10 was designed to help users achieve more. Whether they're finishing a big project for work, capturing and editing a video, or playing their favorite mobile game, the Galaxy Note10 will help them do it faster and better."
Purposeful Design For a Premium Experience
Galaxy Note users appreciate the power of a sophisticated design—not just the look and feel of their device, but the experience it offers.
•
Two Sizes: For the first time ever, the Galaxy Note10 comes in two sizes. The Galaxy Note10|Note10+ opens up the Note to users who want the power of the S Pen and ultimate productivity in a compact form factor, packing a 6.3-inch Cinematic Infinity Display into the most compact Note yet. The Galaxy Note10+ features the biggest Note display ever with a 6.8-inch Cinematic Infinity Display on a device that's still easy to hold and easy to use.
•
Edge-to-edge Design: The Galaxy Note10's edge-to-edge Cinematic Infinity Display is nearly bezel-less, while the in-display cut out for the front camera is small and centered for a balanced design.
Multi-Faceted Productivity to Maximize Every Moment
Note users place a premium on productivity, and they see their phone as essential to helping them do and achieve more.
•
Handwriting to Text: The Galaxy Note10 brings a powerful new capability to the re-designed, uni-body S Pen. Now, users can jot down notes, instantly convert their handwriting to digital text in Samsung Notes, and export it to a variety of different formats, including Microsoft Word.
•
Evolution of the S Pen: The Galaxy Note10 builds on the Bluetooth Low Energy-enabled S Pen capabilities introduced on the Galaxy Note9 by adding Air actions, allowing you to control certain aspects of the device using gestures with the S Pen.
•
Link to Windows: The Galaxy Note10 integrates Link to Windows directly into the Quick Panel. With one click, users can connect to their Windows 10 PC. There, they can see notifications, send and receive messages, and review recent photos without pausing to look down at their phone.
Pro-Grade Camera for Creators
With the Galaxy Note10, content creators and everyday users alike can use state-of-the-art tools to capture stunning video and photos. Featuring a combination of advanced imaging technology and software, the Galaxy Note10 elevates mobile videography and photography to the next level.
•
Quick and Easy Video Editing: Once they've recorded their video, Galaxy Note10 users can edit-on-the-go instantly right from their phone. Video editor can be used with the S Pen, so instead of having to tap to select or edit a clip.
Unparalleled Performance for Power Users
Note fans use their phones to do just about everything—not just tackling everyday tasks, but taking on big projects: running their business and editing videos by creating beautiful illustrations with the S Pen.
•
Super Fast Charging: With just 30 minutes of charge, the Galaxy Note10+ lasts through the day with up to 45W wired charging capability.
•
Gaming: The Galaxy Note10 features the world's slimmest vapor chamber cooling system, which delivers optimal performance during gameplay while keeping the device slim and sleek.
Galaxy Note10 Availability
In Sri Lanka, Galaxy Note10+ will be available in 12GB RAM+256GB ROM and 512GB ROM variants. With a Micro SD card, customers can expand storage by 1TB. Galaxy Note10 will be available in 8GB RAM + 256GB ROM variant. Both devices will come in three exciting colors. The Galaxy Note 10+ will be available in the iconic colours Aura Glow, Aura White and Aura Black; Galaxy Note 10 will be available in Aura Glow, Aura Black and Aura Red.
The starting price of the devices will be at Rs.182,990/-.
Customers can purchase the newest flagship devices at Damro, Singer, Singhagiri, Dialog, Mobitel, online partner MySoftlogic.lk and all island-wide authorized dealers of Softlogic Mobile Distribution and JKOA that can be easily identified by the Samsung Logo board placed outside the shop.
Customers could reach out for any assistance in the set-up of the new Note10 | Note10+ by contacting the Samsung customer hotline which has extended its working hours; Monday – Sunday 8.30am to 8:30pm.