---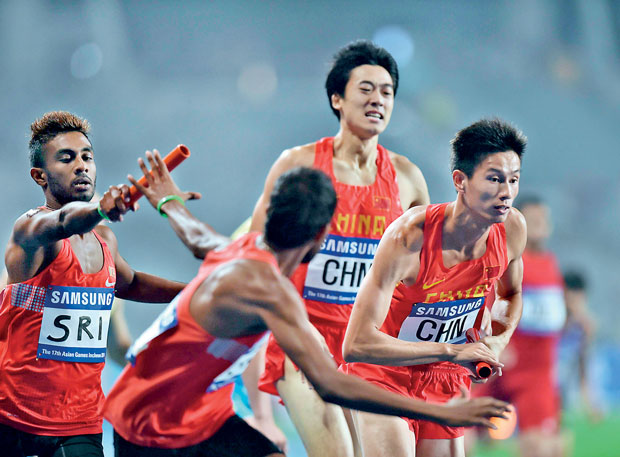 Manjula Kumara 12th in High Jump
By Yohan Bhasura reporting from Incheon, South Korea
The Sri Lanka Men's 400m relay team, finished their heat in 3:10.30 secs. to qualify for the final at the XVII Asian Games in Incheon, South Korea yesterday. The quartet was placed fifth in their heat. There were two heats in this event out of which the first three teams in each heat, and two fastest losers, qualified for the final. Therefore, Oman (3:10.01 secs) and Sri Lanka qualified as the seventh and the eighth teams.

Hong Kong, despite finishing fourth (3:11.28 secs) in the second heat, missed out on a place in the finals. Iran, who were a strong contender for a medal, did not qualify for the final, due to a failed baton change in their heat, and this probably gave Sri Lanka the opportunity to feature in the finals.

Sri Lanka occupied the eight lane, and Kalinga Kumara despite coming in as the second fastest, blundered at the baton change with Anjana Madushan and this was a setback for Sri Lanka. Thereafter, Madushan dropped to fifth place, and by the time Nalin Karunaratne took over the last phase from Kasun Kalhara, Sri Lanka were in sixth position. In the first heat, Japan (3:05.53 secs), China (3:09.19 secs) and Kazakhstan (3:09.92 secs) gained automatic qualification. The final of the men's 400m relay is scheduled to take place on Thursday (October 2) at 5:05 pm local time.

High Jumper Manjula Kumara, finished 12th in the final of the men's high jump event, which had 19 competitors. Kumara, was successful in clearing a height of only 2.15 metres. He failed in all three of his attempts at 2.20m. In any event, the 30-year-old the personal best of 2.27m, with the recent form indicating a success rate at 2.21m only. Manjula who went over 2.15m in his first attempt could have won at least a bronze had he replicated his recent form. However, Manjula had to rely on two attempts to clear an initial height of 2.10m. The gold medal in this event was won by Qatar's Mutaz Essa Barshim, who eclipsed a 32 year old record in clearing 2.35m. The earlier mark was set in the 1982 New Delhi Games, by Chinese high jumper Zhu Jianhua , with a height of 2.33m. Silver was won by China's Zhang Guowei who jumped 2.33m, and the bronze by Muamer Essa Barshim, the brother of the Gold medallist, clearing 2.25m.
Sri Lanka's mens hockey team, lost to Singapore 5-3 and finished last. Today is the 12th day of the Games.