---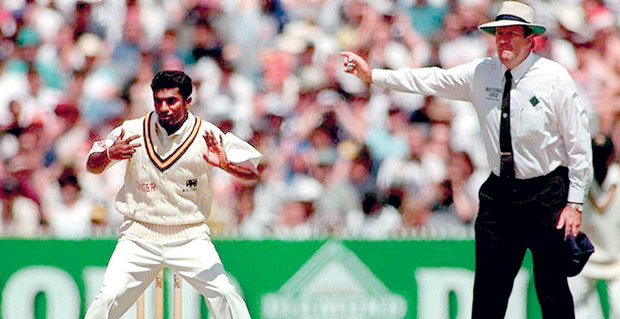 Former Australian Test umpire Darrell Hair has named three sub-continental spin giants - Muttiah Muralitharan, Saqlain Mushtaq and Harbhajan Singh - as the 'role models' for the increasing number of 'chuckers' in the game currently.
Slamming the famed trio, Hair told Sydney Morning Herald, "I said it in the late '90s that if something wasn't done about it you'd have a generation of chuckers on your hands. They try to emulate Harbajan Singh, Saqlain Mushtaq and Muralitharan and that's the problem. The crackdown should have happened on those players and the ICC should have let it be known that it wasn't acceptable."
Hair, who famously noballed Muttiah Muralitharan in a Boxing Day Test, says cricket's crackdown on illegal bowling actions has come 20 years too late, leaving the game with "a generation of chuckers". Muralitharan had his action cleared the following May, and then again in 1999 after he was called again by umpire Ross Emerson during a one-day international in Adelaide, and went on to take more Test wickets than any bowler in history.
The Australian has watched with interest as a succession of leading bowlers led by Pakistan spinner Saeed Ajmal have been suspended from international cricket or reported in an unprecedented purge.
The absence of Ajmal for the upcoming Test series against Australia in the United Arab Emirates is a huge blow for Pakistan but Hair predictably has little sympathy, instead taking aim at the ICC for being soft on one of the game's most vexed issues for too long.
"Whatever they're doing now, they're doing 20 years too late," he said. "They had a chance in 1995 to clean things up and it's taken them 19 years to finally come back and say they want chuckers out of the game. I can't believe that Saeed Ajmal has been able to bowl as long as he has, and they say he is bending his arm by 45 degrees [the legal limit is 15 degrees] or something. Well, every man and his dog would have known that.
"I suppose what it does show is the general weakness of the umpires over time to do anything about it."