---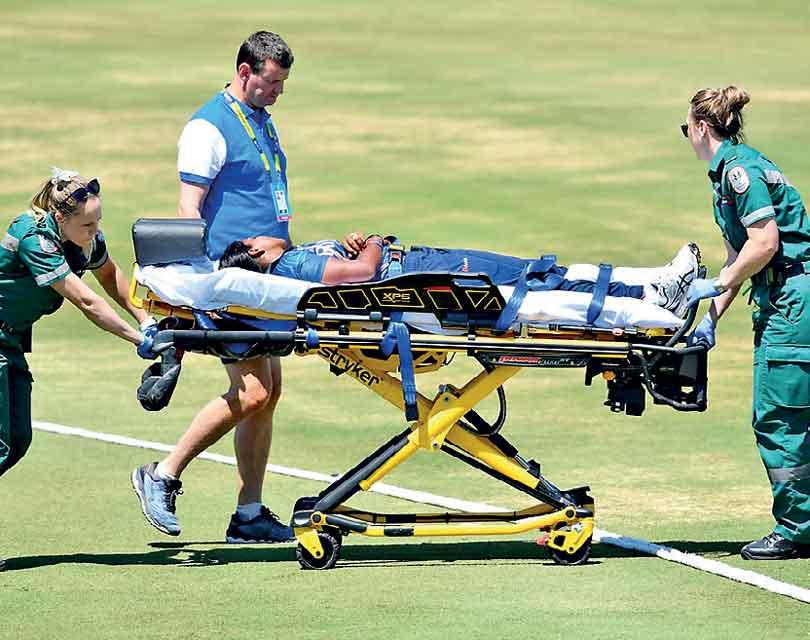 Achini Kulasuriya being taken to a nearby ambulance
By BIPIN DANI
Achini Kulasuriya is out of danger, according to Women's Cricket Team Head Coach Harsha de Silva after the Sri Lanka medium pacer suffered a serious injury while fielding during yesterday's Women's T20 World Cup warm-up match against South Africa in Adelaide.

"She is out of danger and is recovering well. She got hit by a ball while attempting to take a high catch," de Silva said after the incident.

"She should be able to start training in a couple of days. It is all cleared. Our first tournament match is on February 22," added de Silva.

Kulasuriya was hit flush on the top of her skull when she misjudged a skied catch from Proteas power-hitter Chloe Tryon while stationed on the long-off boundary, and lay face down on the turf as worried teammates raced to her aid.

The 29-year-old remained motionless for several minutes as ambulance officers checked her condition and Tryon stood nearby with hands on head, clearly distressed as Kulasuriya was slowly lifted on to a stretcher.

She was then wheeled from the ground to a nearby ambulance and transferred to the adjacent Royal Adelaide Hospital for further tests.

The incident occurred from the first ball of the game's second super-over, which had been implemented purely as a practice measure after South Africa finished the earlier 20-over match victorious by 41 runs.

The match was called off in the aftermath of Kulasuriya's injury, with members of the Sri Lanka line-up and support staff reassuring Tryon that she was in no way to blame for the incident and that their injured teammate was okay.

South Africa Women: 146/5 in 20 overs (Marizanne Kapp 44, Laura Wolvaardt 38 n.o, Mignon du Preez 28, Chloe Tryon 23 n.o, Udeshika Prabodhani 2/8, Chamari Atapattu 2/28)
Sri Lanka Women: 105/8 in 20 overs (Ama Kanchana 24 n.o, Hasini Perera 22, Sune Luus 4/20).