---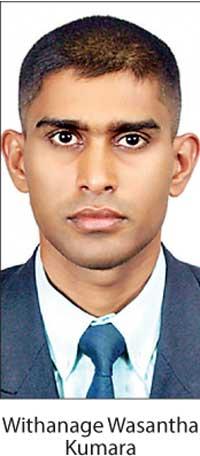 Former Sri Lanka National Boxing Coach Withanage Wasantha Kumara was elected as the President of the newly formed Kundasale Sports Club at their inaugural Annual General Meeting (AGM) held at the
club pavilion.

Wasantha was instrumental in guiding Seevali MMV, Ratnapura to become a major force in the Inter-schools boxing arena.

He was later appointed as the Sri Lanka National Boxing Coach and had the honour of producing a boxer to represent Sri Lanka at the Beijing Olympics after more than four decades in the form of Anuruddha Ratnayake.
Wasantha, is a reputed boxing coach having succeeded as a three-star AIBA Coach and also he has undergone an Advanced Management Course conducted by the IOC.

Wasantha told the Daily Mirror that the club was formed with the intention of supporting some of the talented sportsmen who would be able to continue their sports in rugby, cricket, boxing, athletics, football and volleyball after their school career.

The AGM was conducted in the presence of two officials from the Divisional Secretariat Central Province and attended by over 100 members who were given membership of the newly formed club.
Meanwhile, Rangana Karunanayake was elected as the Secretary and R. M. D. B. B. Ratnayake was elected as the Treasurer along with 14 Executive Committee Members.

The office-bearers:

Patrons: Dr. Janaka Marapana, R. Vipula Karunanayake and M. B. Abeyratna.
President: Withanage Wasantha Kumara.
Vice-President: H. M. H. Jayaratna Bandara.
Secretary: R. A. Rangana Karunanayake.
Assistant Secretary: P. A. Janaka Shantha.
Treasurer: R. M. D. B. B. Ratnayake.
Chief Organiser: Sarath Kumara Kadanage.
Auditor: D. G. Thilakarathna.

Executive Committee: H. M. L. Wijerathna, M. Panangala, P. Tharanga Karunanayake, Indika Medagedara, P. S. Chandana Silva, B. G. Maduka de Silva, W. H. Ranil Fernando, H. G. C. I. Nawarathna, H. M. P. B. Herath, Y. G. E. Buddhika, Senaka Rajapaksa, W. A. U. Ranjan Wijesekara Bandara, Amila Kumari Hettige and B. A. M. Prasad Abeysinghe.

Disciplinary Committee: Wasantha Withanage Kumara (Head of Committee), Lakshman Wijeratne, I. M. Jagath Kumara and P. B. M. G. S. Basnayake.

Sports Event Committee: Prasad Abeysinghe, Priyantha Balasooriya, Janaka Shantha and R. A. K. Rangalla.
Fund Raising Committee: Tharanga Karunanayake, Samantha Balasooriya, Kavinda Chandratileke, H. M. B. B. Herath and M. N. Perera.

Ground Development Committee: D. M. Panangala, W. A. U. Ranjan Wijesekera Bandara and R. A. K. Rangalla.
Marketing Committee: Kumudu Rajapaksa, Kalpa Bapasara, A. Anurudda and Kasun Gayan
de Silva.

(MSA)