---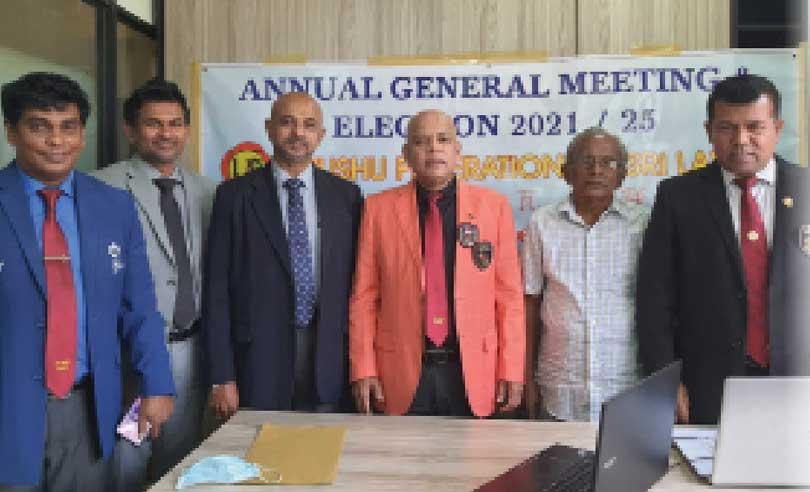 The Executive Committee of SLWF after the election of office-bearers
By Susil Premalal
Veteran sports Administrator and international wushu official Manel Dharmakeerthi has been elected President of the Sri Lanka Wushu Federation (SLWF) for a second term uncontested.

Conducted at the Department of Sports Development in Torrington via Zoom, all office-bearers were elected uncontested for the period 2021-2025.

Dharmakeerthi who has served SLWF in various capacities, is Secretary of the South Asian Wushu Federation and member of the Asian Wushu Federation's technical sub-committee.
SLWF office-bearers are as follows:
President – Manel Dharmakeerthi
Vice Presidents – Mahendra Ekanayake, Kithsiri Subasinghe, H.K.C. Aruna Kumara, Nishantha Pathiraja, S.D.L. Karunaratne
Secretary -Vijith Priyantha Edirisinghe
Asst. Secretary – L.A.D.S. Karunarathne, Ajantha Bandara
Treasurer – Bandara Jayatissa
Asst. Treasurer – J.K. Weerasinghe
Tournament Committee Secretary – H.M. Ananda Kumara
Asst. Tournament Committee Secretary – B.R. Jackson, Jeevan Maduranga
Executive Committee – Chamara Dharmadasa, Niroshan Bandara, W.M.W.R. Bandara, W.M.V.D. Chathuranga, Prasad Fernando, K.A. Krishantha, Rasanjali Menaka