---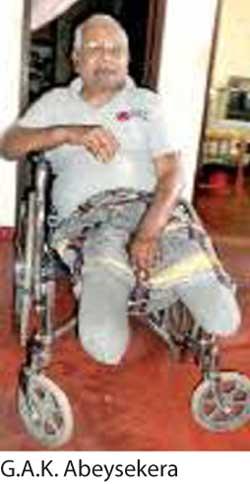 By Susil Premalal
The football community in the country mourned the passing of a veteran administrator G.A.K. Abeysekera, whose funeral rites took place in the presence of his family and friends at the General Cemetery Kanatte, Borella on Saturday. He was 82 at the time of his death.

Having begun his football career as a schoolboy in the 50's, Abeysekera distinguished as an administrator of the sport for more than 50 years.

He served the Colombo Football League and the Football Federation of Sri Lanka diligently and until ill health forced him to retire from his SL Football Federation job seven years ago. Popularly known as 'Football Abey', he functioned as assistant secretary, secretary, vice-president and headed various committees during his tenure.
Following are excerpts of an interview which was carried in the 'Daily Mirror' and 'Sunday Times' in February 2016 after he underwent a heart bypass surgery and was confined to a wheelchair at home with both his legs having been amputated.

Also known as 'Kule Ayya', he blossomed into a football player in 1955 while playing for Cotta Park Playground and for Youngsters Sports Club, Borella. An old boy of Susamayawardana MV, Borella, he studied English in the afternoons at Zahira College, Maradana. He played only club soccer but earned a name for himself as a daredevil goalkeeper, being in the winning side for over 23 games. He played in the Colombo League and the FA Cup. He displayed all-round skills by taking part in hockey and boxing. He turned out for Colombo Hockey Club and boxed with great dexterity for St. Michael's Boxing Club, Kollupitiya in the fly weight.

He gave up soccer due to an injury but kept in touch with the game by being the secretary of his club and later playing a major role in the administration of the sport. He was sports secretary of the Prison's Department from 1967 to 1996, general secretary of Youngsters SC from 1960, and general secretary of the Colombo Football League for 25 years, from 1976 to 2001. He was also secretary of the Government Service Soccer Association from 1982 to 1996. Assistant secretary of the FFSL from 1987 to 1992, he rose to be vice president of the federation, a post he held 1991 to 1996 and again from 1998 to 2001 and also as general secretary of the FFSL from 1996 to 1998.

He also officiated as Match Commissioner in AFC/FIFA international matches. He also conducted AFC 'A', 'B' and 'C' License coaching courses.

Even though he was handicapped, he maintained rigid discipline. Even the FIFA Standards reported on this in its website Sport Business International Limited once commenting on the excellent standards he maintained.
"I never had any sickness. I never took even a Panadol. Now I have fallen into this stage. I am seeking a quick death and waiting for the Angel of Death. Former FIFA President Sepp Joseph Blatter during his last visit to Sri Lanka in 2013, wanted to present me with an award with two others. Even to take that I was feeling shy to be present at the ceremony on a wheelchair," he said in the 2016 interview with the Daily Mirror, thanking former FFSL presidents Manilal Fernando and Ranjith Rodrigo, and the incumbent Anura de Silva for all the help extended to him.