---
By M. Shamil Amit
S. Thomas' College Mount Lavinia demolished Maliyadeva College Kurunegala 38 points to 08 in the Singer Under 19 inter-school rugby encounter played at Mt Lavinia today (25) and in the process recorded their third win of the tournament.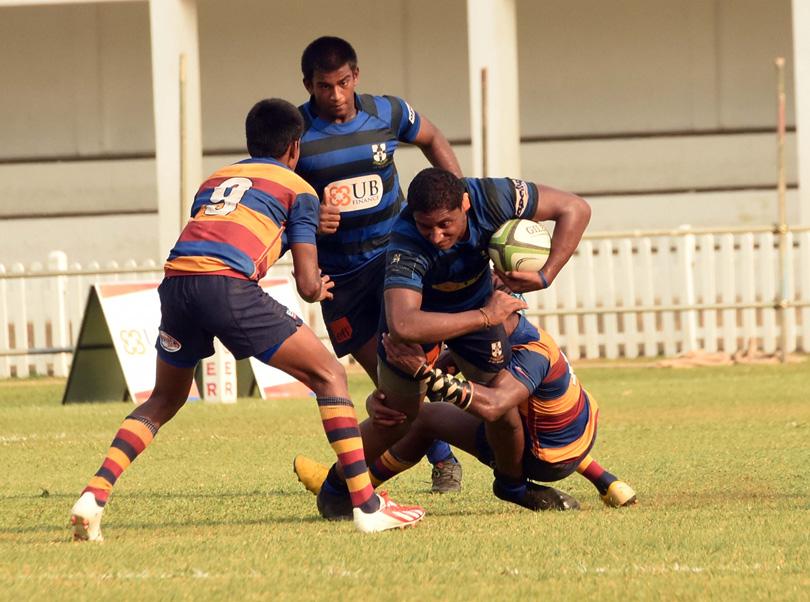 The Thomians having taken a 12-3 lead at the breather accumulated their points through four goals and two tries to a try and penalty scored by Malyadeva.
It was another strong second half performance that saw the Thomians coasting to an easy win. The sea side boys did not put in much effort in the first half which showed in the score line.
The Thomians went on the rampage in the second half and it was an escape of sorts for the Devans who, in the previous three matches, were soundly beaten by scores of over 50 points.
The expectation by the Thomian supporters for a big win seemed unlikely to come through, with the Devans succeeding to restrict them to 12 points at the half.
The Thomians put up the first scoring through a try scored by Kaveen Jayasekera with Ovin Hettiarachchi making the conversion.
However both the sides was not efficient in their ball handling which accounted for the slow pace of progress. And in between the Devans missed out on penalties that they were offered and the Thomians in the process increased their lead with an unconverted try scored by Dunal Fernando.
A few minutes away from the short whistle the Devans forcing themselves into their opponent's territory were awarded a penalty for an infringement which Kaushalya Gunaweera made no mistake with.
After the break, the Thomians appeared to have come with a different game plan as they succeeded to plant back to back tries the first by Hasitha Dharmapriya and the second by prop Aaquib Cader, with Jaan de Zoysa booting over both the conversions which saw them on top with the score on 26-03.
Buoyed by the two tries the Thomians went into the attack again and had the Devans struggling for survival.
The Thomian line was worked to perfection and ended with Navishke Karunaratne going over for a try and Jaan de Zoysa adding the extra points.
This followed with Maliyadeva losing one of their players who was sin binned but they managed to breach the Thomian defense to score a consolation try scored through S. Dilshan before Kaveen Jayasekera sealed the game for the Thomians with a try down by the left corner flag which was his second of the match.
With the conversion going astray the Thomians came out victorious 38-8.
Referee - Gihan Yatawara