---
Iconic athletics coach calls for a return to basics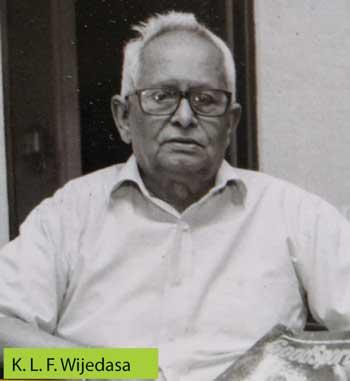 By Susil Premalal
Sports psychology will play a major role in improving the mental well-being of athletes who face an uncertain future because of the coronavirus pandemic, says iconic athletics coach K. L. F. Wijedasa.

"The coronavirus has brought all sports to a standstill not only in Sri Lanka but around the world. But some of the countries are not really affected by the lockdown. Some coaches have devised innovative methods such as online videos to continue their training schedules and maintain fitness of athletes while staying at home. However, our coaches are yet to come up with such programmes," Wijedasa, a former national athletics coach, told the Daily
Mirror yesterday.

"Our athletes are mentally down at the moment. Therefore we have to lift them up psychologically," said octogenarian Wijedasa, a Ceylon record holder, pedagogue and mentor of several national athletes who distinguished themselves in the international arena.

Wijedasa called for a return to the roots and basics in the lifestyle of athletes slamming the reliance on performance enhancing drugs in the modern era.

"Our focus in the recent past has been on beefing athletes with proteins and supplements. We have to go back to basics. Now we have to think of nourishing them with staple food which people consumed in the villages such as potatoes, yam and manioc in future. The reason is because decades ago athletic stars such as Sunil Gunawardena and W. Wimaladasa ran to bring glory to Sri Lanka being nurtured on home grown food in their villages. We have to go back to that culture," said Wijedasa, a native of Ambalangoda, who received his education at Dharmasoka, Moratu Vidyalaya, and Ananda College, Colombo before graduating from the University of Ceylon (Peradeniya).

"Nowadays our coaches focus more on drugs than actual training to enhance the performance of athletes by hook or by crook. Our primary concern should be the health of athletes, not to win at any cost. We have to ensure they get proper nutrition and motivate them mentally," said Wijedasa, a former chairman of the National Selection Committee of the National Olympic Committee of Sri Lanka.

He urged the authorities concerned to utilize the services of people like S .L. B. Rosa to raise the performance of athletes. A University of Wisconsin-Parkside Hall of Famer, being men's cross country and track coach from 1977 to 2007, Rosa won the golden double in the 5,000 and 10,000 metres at the Bangkok Asian Games in 1970 running barefoot.

"We have to develop the athletes through counselling and psychology when they return for competition after a prolonged period of inactivity. Rosa has a good knowledge of sports psychology having coached in the United States. He comes to Sri Lanka regularly. We have to make use of his services to improve the mentality of athletes," reiterated Wijedasa who produced several national and international level athletes such as Hema Amarasinghe, Wijitha Wijesekara, U. D. Wickramasinghe, Sunil Gunawardena, Kosala Sahabandu, Gregory de Silva, Palitha Wijesinghe, Prasad Perera, R. Rajendran, C. R. Ferdinando, Ransiri Serasinghe, Mallika Jayamanne, K. G. Badra, Nadeeka Silva, Surangani de Silva, Melani White, Thamara Padmini and Thirinu Premaratne, to name a few.