---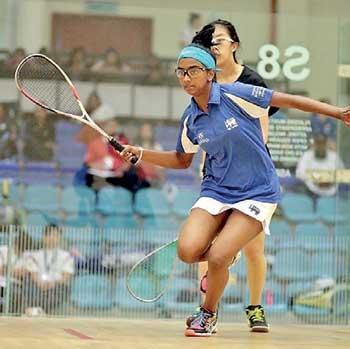 By Susil Premalal
A top official of the Squash Federation of Sri Lanka (SFSL) says in the face of tough competition from favourites India and Pakistan, Sri Lanka may not be able to fight for the gold medal at the South Asian Games (SAG) in Kathmandu, Nepal. from December 1-10.

"In the history of the SAG, Sri Lanka has never won a gold medal but has the capacity to battle for the silver medal. At the last edition of the Games, Sri Lanka managed to secured three bronze medals. India and Pakistan won the gold medals. The bronze medals were won by Mihiliya Methsarani," said an official of the federation.

The Squash federation has formed a 23-member National pool with the SAG as a target.

It includes 10 men and 13 women squash players.

They were selected according to their rankings.

The federation hopes to finalize the SAG team by August or September.

The squash team for the Games will comprises eight players, four men and women each.

The best hope of winning a medal at the Games is from internationally ranked players such as Mihiliya and Ravindu Laksiri.

Mihiliya has won the national title for six years continuously from 2012. In addition she has participated in the Asian Youth Championships and represented Sri Lanka at the Gold Coast Commonwealth Games in 2018 in which she qualified to the final round of the Plate competition.

Laksiri has been the men's national champion since 2013. He took part in the Asian Youth Championships and South Asian Games.

The women squash players are the leading contenders to win silver in singles and bronze in doubles at the Games.

The coach of squash for SAG is Chaminda Talagala. The federation hopes to appoint two assistant coaches in future.