---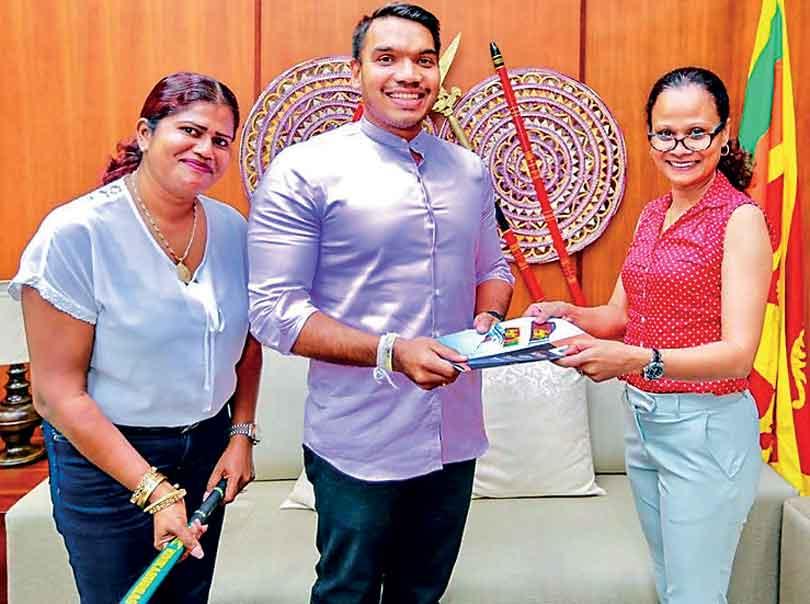 Minister of Sports Namal Rajapaksa being presented with a copy of SLMWNHA's first bulletin by Ruwaiza Sela (R), Secretary, SL Masters Women Hockey. Also in pic: Manoji Pradeepika (L), Asst. Secretary, SL Masters Women Hockey
Will return to action from October 10 for an intra-squad tournament
'Iconic Phase Three' tournament in Feb. 2021 with participation of 5 girl's schools
By Amindha de Alwis
Sri Lanka Masters Women National Hockey Association (SLMWNHA), who have enjoyed steady progress ever since being founded in 2017, are hoping to hit the ground running as sporting action begins to recommence across the island.

The highlight of Sri Lanka Masters Women's journey to-date has been their participation in the 2018 Masters' World Cup in Spain where they had the distinction of being the only female Asian team to take part in the competition. They recently published their inaugural bulletin, highlighting their mission and achievements since inception, and presented the first copy to Minister of Sports Namal Rajapaksa.

The ladies will be back in action from October 10 as they take part in an intra-squad tournament with the aim of getting back into match-fitness and building their competitiveness in preparation for the Masters' World Cup next year.

Masters Women, through contacts in Switzerland and Germany, have made possible the collection of used hockey equipment which is to be shipped to Sri Lanka and donated to deserving children. Masters Women's International Coordinator, Apsara Gunaratne, in particular, has been instrumental in coordinating this as well as previous equipment donations, and further members have also come forward with personal funds to facilitate the clearing and distribution process once the goods reach Sri Lanka.

According to Secretary Ruwaiza Sela, the ladies plan to visit Jaffna to distribute the equipment and also play a game or two. She also indicated that they wish to visit two more areas where in the sport is budding in order to provide equipment for training and to build interest in the sport.

Masters Women conduct their practice sessions at the Sports Ministry Turf in Colombo 7 and of immediate concern is that the playing area is in need of repairs and refurbishments. However, it was indicated that fruitful discussions had recently been held with authorities pertaining to resolving the matter.

Looking further ahead, Masters Women Hockey expect to conduct the 'Iconic Phase Three' tournament in February 2021 which will see the invitation of five girls' schools who will also be provided with hockey equipment and related needs.