---
By Shannon Nicholas
In what turned out to be close tussle, Royal College held on to a 24-19 victory over Wesley College in their Inter-Schools Under-19 League Rugby Tournament fixture worked off at the Royal College Sports Complex in Reid Avenue yesterday (17).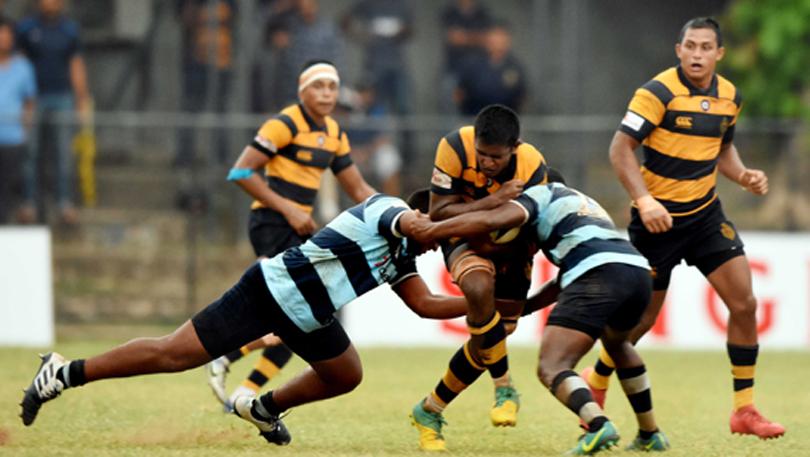 The late surge by Wesley looked as if there would be an upset on the cards but the home team did well to hold on to the victory, their third this season, after enjoying control of the encounter for most of the game.
The winners collected their points through four tries and two conversions while the losers managed to score three tries and two conversions.
The half time scores read 12-5 in favour of the hosts.
With less than four minutes on the clock, Eranda Harshana went over the line after collecting the ball from Mursheed Zubair, who had a great game, to put the visitors in front.
Maleesha Perera squandered an easy penalty in front of the posts minutes later but Kalindu Nandila levelled the scores when he managed to plant the ball for Royal's first try.
The conversion was missed, and the scores were 5-5 at that stage.
Royal managed to get in front when Achitha Radeeshan ran along the throw-line to get past the Wesley defence before touching down.
Dulan Gunawardena converted and amended the scores to 12-5.
Eight minutes into the second half, a fumble by the Wesley line led to a Royal try by Migara Mihisanka, who collected the loose ball and went over the line amidst heavy showers.
Royal flanker Kevin Samarasekara picked the ball and went over the line following a 'ruck' in the 50th minute to amend the scores to 24-5.
With pressure building up in the Double Blues' camp, they leashed a series of attacks and were successful when Samuel Ogbebor touched down following a poor clearance by Royal's Lehan Gunaratne.
Zubair added the extras, setting the scores to 24-12.
Zubair was involved yet again as Wesley reduced the deficit to just five points as his pass was collected by Kavindana Perera, who flew over the line.
With the successful conversion, the scores read 24-19 but it was too late for a comeback by the Wesleyites as Royal held on to the ball to close the game with a win.
Referee: Hasantha Weranga.