---
By M. Shamil Amit
The much anticipated Under 19 inter-school rugby encounter between S. Thomas' College and Royal College played at Mount Lavinia today (11) was expected to be an exciting contest but turned out to be drab, as Royal huffed and puffed for a 17-10 win.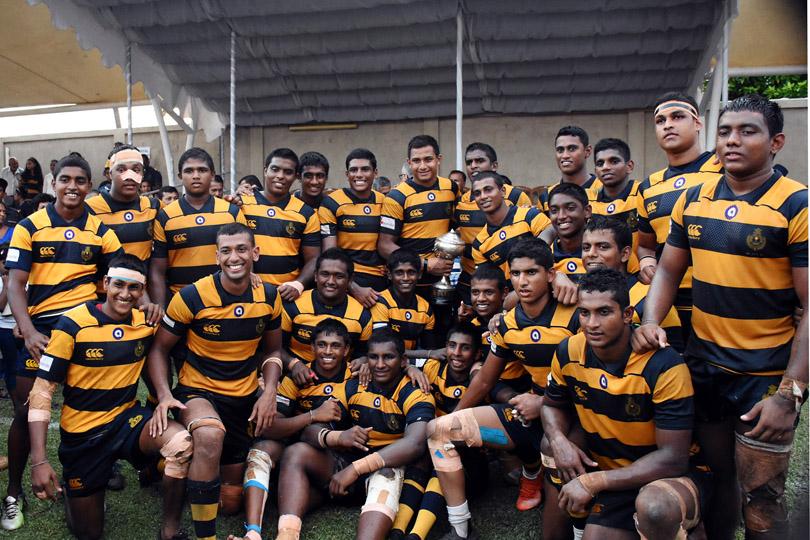 Importantly, for Royal, it was their second successive victory which saw them retain the Michael Gunaratne trophy and in the process winning it for the 34th time.
The Royalists, who held a 10-00 lead at the breather, accumulated their points through a goal and two tries against the goal and penalty scored by the Thomians.
Even though the Royalists dominated proceedings in both halves they did not possess the finishing ability and credit cannot be taken away from the Thomians who succeeded in brushing off the fierce challenge put in by their opponents.
In fact for the most part of the first session the Royalists were in the Thomians territory but they succeeded in breaching the defense only on two occasions, scoring two unconverted tries in the fifth and ninth minutes through flanker Kevin Samarasekera and fly half Kalindu Nandila.
With a 10-00 lead, Royal went into the attack and off a melee in the second minute of the second half saw skipper and center Thulaib Hassan went over for a try which full back Dulan Gunawardena being spot on with the conversion.
An infringement three minutes later saw the Thomians being awarded a penalty which fly half Jaan de Zoysa made no mistake to reduce the deficit.
The Thomians, perhaps spurred by their first points, played with more cohesion and determination but in the process they threw away scoring opportunities on several occasions.
The Thomians continued to give the Royal defenders some anxious moments and finally succeeded in scoring, with skipper and second row Hasitha Senanayke going over for an under the post try giving de Zoysa an easy kick at goal.
The Royalists' early try gave the impression that they would continue the pattern but it was not to be as they were off color and it looked it was not their day.
From there on the two sides shared the honour and with either being unable to make any scoring saw Royal scrape through with the close 17-10 win.
Referee – Priya Suranga