---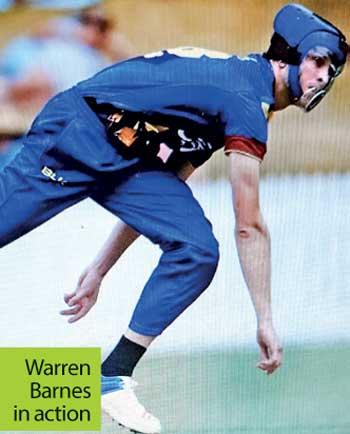 By BIPIN DANI
After India-origin net bowler Jai Kishan was hit on his head, New Zealand cricketer Warren Barnes has recommended the use of a helmet for bowlers.
Kishan who was working with the Australian Team at The Oval was struck on the head during a training session.
The medium-pacer was bowling to David Warner and was hit by a shot that came back at him before he could hardly react.
"There are more and more bowlers getting hit which tells us protection for bowlers during training and games is more important than ever," Barnes said yesterday. Interestingly, Otago's Barnes, who has retired from the game, made first use of the protective helmet while bowling in a T20 match two years ago. "People were pretty stunned at first and thought it was pretty funny but they understand how fast and dangerous a cricket ball can come back to a bowler, especially someone like me, who has a bowling action that prevented me from seeing the ball until the last minute". "The mask that I used during games was a little uncomfortable at times but because it was the first prototype made there was always going to some little issues with its comfort," he further added.
"The main reason was of course protection from incoming shots back towards me that I couldn't get out of the way in time. But starting the process of getting protection to bowlers was what we really need to bring into cricket", Barnes added further.
Last year, Sri Lanka's net bowler Kaveen Fernando had a face injury while bowling at Rishabh Pant.
He was admitted to the hospital and the 23-year-old all-rounder had to replace almost all his lower teeth and now he has stopped playing cricket.