---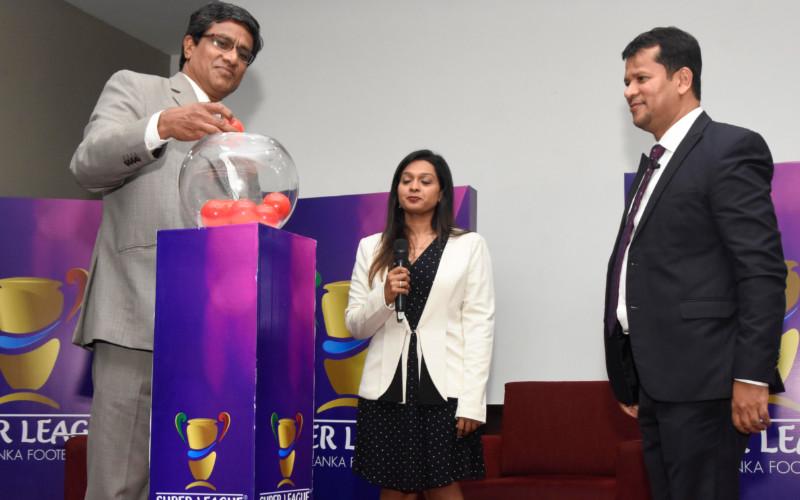 By Susil Premalal
The pre-season tournament of the first ever semi-professional football league competition conducted by the Football Federation of Sri Lanka (FFSL) will be held from February 17 to March 10 behind closed doors at Sugathadasa Stadium.
This tournament will be a prelude to the Super League for which FFSL has selected ten top-tier clubs though a strict club licensing criterion on par with international standards.
The Super League launch and pre-season tournament draw was held at a gala ceremony held at the Duncan White Auditorium in the Ministry of Sports yesterday.
Renown SC, Ratnam SC, Blue Star SC, Defenders FC and Red Stars SC were drawn in Group A while Up Country Lions SC, Sea Hawks SC, New Youngs FC, Colombo FC and Blue Eagle SC are in Group B.
The Super League will commence after the 2022 FIFA World Cup Asian zone qualifying matches scheduled to take place on March 25, 31 and June 5.
Although the original format was designed with the home and away concept consisting of 90 games in a round-robin system, it had to be changed due to the health guidelines and safety reasons. The FFSL has rearranged the format to a single leg-based format, where the competition will be limited to 45 games, with nine games per club.
To provide adequate preparation for the players and clubs during the pandemic, FFSL has a created a new platform under the theme of 'Pre-Season'.
This tournament will see the 10 clubs divided into two group equally where each one of them will face four games during this pre-season period. The pre-season results will not be considered in the Super League tournament.
"This becomes a great moment for Sri Lankan football, to see a new standard of competition and development through the Super League. I thank all stakeholders who worked behind this concept and gratitude to FIFA, AFC, and Clubs for making this professional league a reality. In the long run, we need players, coaches, and referees," stated FFSL president Anura de Silva.
FFSL will financially support all the participating clubs for the pre-season in addition to the financial support for the Super League which is estimated to cost around Rs 300 million. All participating clubs are guaranteed prize money even if they are ranked at the bottom of the table.
"Pre-season will make clubs and players better prepared after a long off-season period. We are looking forward to an exciting competition for the first time of its kind," said FFSL general secretary Jaswar Umar.
All players and officials are subject to one PCR test and three Rapid Antigen tests during the tournament. If three players in a club are tested positive, the team will be temporarily withdrawn from the competition.
Photo: FFSL president Anura de Silva at the pre-season tournament draw during the Super League launch in the presence of FFSL secretary Jaswar Umar at a gala ceremony in Colombo yesterday (by Nimalsiri Edirisinghe)