---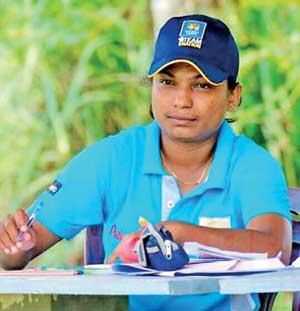 By M. Shamil Amit
Poojani Liyanage one of the leading cricket scorers in the country met with a tragic accident two days ago and breathed her last.

Thirty-three-year old Poojani was on her way home to Anuradhapura on her motor bike having visited her sister staying at Padukka when she was knocked down at Katupotha, Kurunegala.

Before joining the Sri Lanka Scorers Association she had a successful cricket career spanning over 15 years having joined Shakthi Cricket Club Anuradhapura after ending her school career at Walisinghe Harishchandra MV. Poojani represented Shakthi CC from the year 2001 to 2006 and led the side in the 2004/05 cricket season. In the year 2007 she joined CCC and was the skipper of the second team of CCC that participated in Women's division one cricket tournament.

Later she went on to join Colts CC and led the side in the 2015/16 season steering them to the semi-final. She was a member of the Provincial champion team in the same year.
Poojani was a member of the Sri Lanka Academy team which participated in the tri-series with the other two teams being from Australia and England.

But she was unfortunate not to have been selected for the women's national cricket team which forced her to bid goodbye to cricket. She continued to be involved with cricket having joined the Sri Lanka Cricket Scorers Association in 2010 and was involved in scoring at school and club level, and a few international matches until her untimely death.

In between she was adjudged the best scorer among ladies from over 15 lady scorers at the Sri Lanka Cricket Scorers Association award ceremony for the year 2016.

Her remains lie at her residence 54, Mahapaladikulama, Anuradhapura and the funeral will be held on June 18 (Thursday) for interment at the Mahapaladikulama burial ground at 4.00 p.m.