---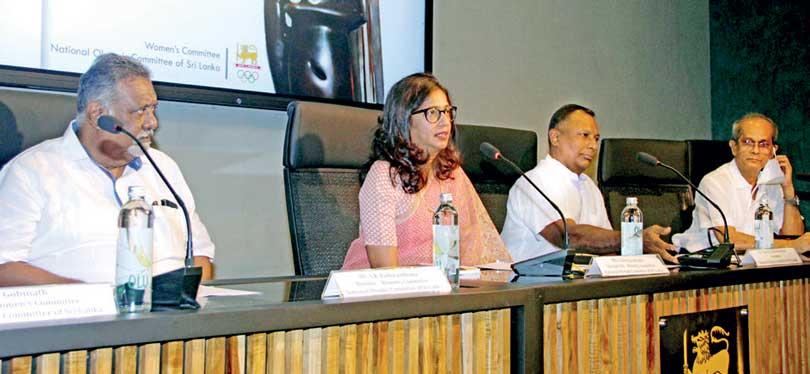 Niloo Jayathilaka (Chairperson Women's Committee) addressing the press conference and from left: S.R. Pathiravithana (Women's Committee Member), Suresh Subramaniam (President NOC SL) and Maxwell de Silva (Secretary General NOCSL) -Picture by Pradeep Dilrukshana
By Susil Premalal
The National Olympic Committee of Sri Lanka (NOCSL) on the direction of the IOC (International Olympic Committee) launched the Lankan leg of the '2021 Women and Sport Award' programme in its goal to work on gender equality in the globe.

The IOC Women and Sport Awards are awarded annually to promote the advancement of gender equality in sport. They recognise outstanding achievements and contributions made to develop, encourage and strengthen the participation of women and girls at all levels in the sports world, in order to close the gender gap.
Six awards in the form of trophies are awarded each year as follows:

One at world level; and one each for Africa, the Americas, Asia, Europe and Oceania.

The awards are granted in recognition of an outstanding contribution to promote the advancement of gender equality, such as increasing the participation of women and girls in sport and physical activities, educating or raising awareness on gender issues, creating an inclusive culture by challenging gender inequality within an organisation, coaching women and girls in sport and physical activity, supporting and coaching women in sports administrative and leadership structures, fostering the inclusion of women in sport in the media or acting as a role model and championing gender equality.

The following individuals and organisations are eligible to receive the awards:

Individuals, such as a retired athlete (i.e. an athlete no longer involved in elite competitive sport), an Administrator, Coach, Journalist or Writer, Sponsor and Academic; organisations, such as a National Olympic Committee (NOC), an International Federation, National Federation, Continental Association of NOCs or a Sports Club.
An active athlete, a team, an IOC Member or an IOC Women in Sport Commission member will not be considered.

The closing date for nominations is March 15. For further information contact Ms. Niloo Jayatilake, Chairperson of Women's Committee of NOCSL, Olympic House, No. 100/9F Independence Avenue, Colombo-07. Email: [email protected], Tel: 0112682220, 724104413.