---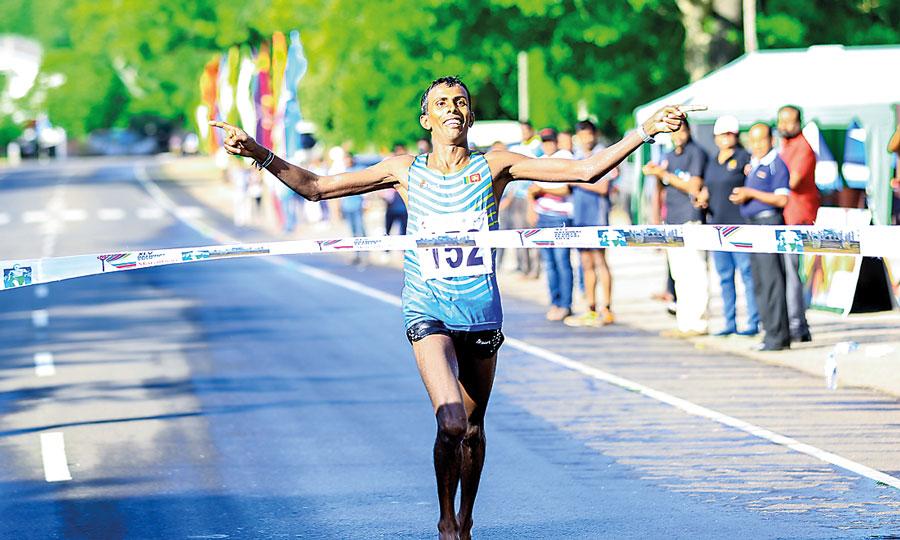 By Susil Premalal
Pradeep Dhammika Arunasiri, the Marathon Champion at the 45th National Sports Festival held in Anuradhapura last week, told the Daily Mirror that he has two targets. The first is winning the Gold Medal at the South Asian Games (SAG) to be held from December 1 to 10 in Kathmandu, Nepal.

The other is depending on the timings in Nepal, to qualify for the Olympic Games to be held in Japan next year.

Dhammika finished with a time of 2 hrs. 29 minutes, 16s. This is the third time that he has won the Marathon Championship at the Sports Festival.

He won it in 2014, 2017 and the third was this year. He represents the Sri Lanka Navy. He was born in Mahaillupallama, Anuradhapura.

According to his performance, the Athletics Association of Sri Lanka (AASL) has decided that Dhammika and second placed winner D.G.D. Sandaruwan, the defending National Champion, will be included in the SAG National Pool.

Dhammika says that he did not have competition this year and there were less participants. "Because of this I could not improve my timing.

"My best timing is 2 hours, 20 minutes, 58s securing tenth place. I achieved this at the Asian Marathon Championships 2017 in China", he said.

"I was injured for one and a half years. Other than that due to the April 21 disaster, I had duty at a stretch as such I could not do any training".
The Marathon Sri Lanka record is 2 hours,13 minutes, 47s set by Anuradha Indrajith Cooray at the 2015 London Marathon.

In the history of Sri Lanka Athletics the first Marathon Record is 2 hours, 22 minutes 07s setup by Wimalasena Perera in 1967.

At the South Asian Games, the first Sri Lankan to win the Marathon Gold Medal was V.K. L. Samarasinghe at the 1989 Islamabad Games.