---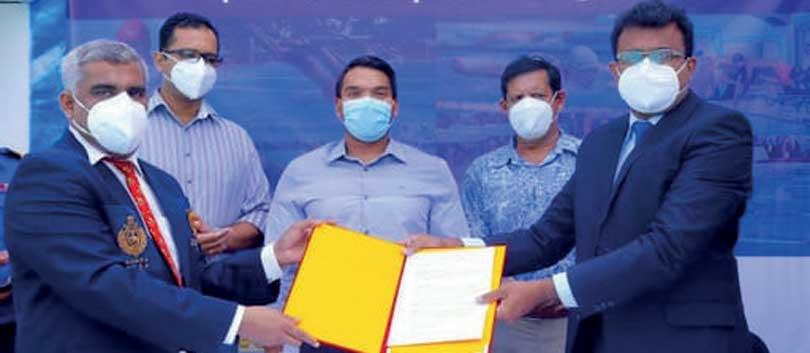 SLASU President Nethru Nanayakkara and Director General of the Department of Sports Development Amal Edirisooriya exchanging the MoU after signing the agreement in the presence of Sports Minister Namal Rajapaksa
By Susil Premalal
Sports Minister Namal Rajapaksa has decided to allocate a sum of Rs. 100 million for five sports as part of the High Performance Sports Development Programme of the Ministry in conjunction with the National Sports Council (NSC).

The Sports Ministry has signed MoUs (memorandum of understanding) to provide grants to four sports bodies with the target of winning medals at the 2022 Asian and Commonwealth Games and the 2024 Olympics.
The Sri Lanka Volleyball Federation (SLVB), Sri Lanka Aquatic Sports Union (SLASU), Sri Lanka Tennis Association (SLTA) and Sri Lanka Karate-Do Federation have signed MoUs while the National Shooting Sports Federation is expected to ink the agreement in future.

The sums allocated to the respective sports bodies were for indoor volleyball (Rs. 27, 391,800/-), beach volleyball (Rs. 19,464,000/-), Swimming (Rs. 5,780,000/-), Tennis (Rs. 19,464,000/-), karate (Rs. 20,300,000/-) by the Ministry.