---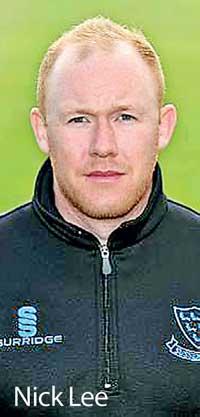 By BIPIN DANI
Sri Lanka Cricket's (SLC) Physical Trainer Nick Lee would miss the forthcoming two-Test tour of Pakistan, according to reliable sources.
The 36-year-old former England cricketer, who has been working as a trainer for the Sri Lanka National Cricket Team since September 2016, has returned home to visit his sick mother and is unlikely to return to Colombo before December 10.

Dimuth Karunratne-led Sri Lanka Test Team would leave for Pakistan on December 8. They will play two Tests in Rawalpindi (December 11-15) and in Karachi (December 19-23).
Lee, who previously had been the Strength and Conditioning Coach for English County Sussex, will be replaced by Dilshan Fonseka.
Fonseka has come up the ranks to the top position following his success at St. Joseph's College, Colombo for nearly a decade and after a stint with Ragama Cricket Club.
He has also worked as the Trainer for the Sri Lanka 'A' Team and Sri Lanka Under-19 Team.

"Fonseka's appointment is only for this (Pakistan) tour. We have already applied for his visa," a source at SLC revealed yesterday.
The 16-member Sri Lanka Test Squad will train till December 6.