---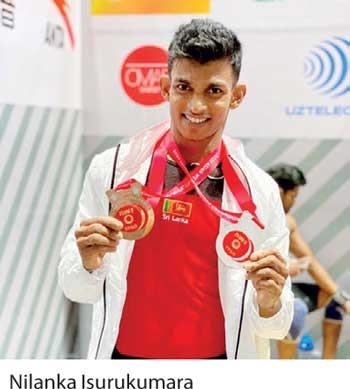 By Susil Premalal
Army's Nilanka Isurukumara won a silver medal in the clean and jerk event but had to settle for a bronze after being placed fourth in the snatch competing in the 55kg weight category at the 2020 Asian Weightlifting Championship in Tashkent, Uzbekistan yesterday.

Isurukumara lifted 104kg in the snatch to be placed fourth and 137kg in the clean and jerk to get second position but his combined total of 241kg secured him a bronze medal.

Sri Lanka are represented by four athletes in this competition comprising three men Isurukumara (55kg), Navy's Indika Dissanayake (73kg) and Viraj Palangasinghe (61kg) and a solitary woman competitor Navy's Chathurika Priyanthi (81kg).

This is the first time Sri Lanka's weightlifters are participating in an international competition since the 2019 South Asian Games (SAG) in Kathmandu.

The Sri Lanka Weightlifting Federation(SLWF) aims to achieve two objectives by participating in this tournament.
The first is to qualify for the Tokyo Olympic Games and the next is assessing their standard for the 2022 Commonwealth Games.

Improving performance than targeting medals is the main aim of participating in the Tashkent tournament, according to SLWF.