---
By Susil Premalal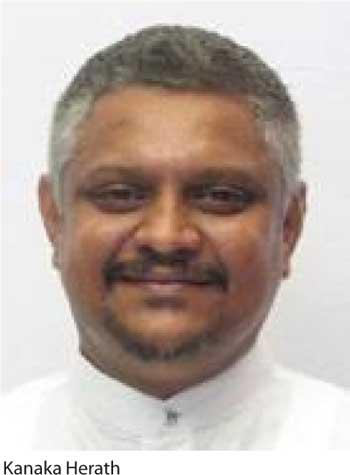 State Minister of Plantation Kanaka Herath has been re-elected President of the Table Tennis Association of Sri Lanka (TTASL) at their Annual General Meeting held on Sunday via zoom.

Herath is an alumni of Trinity College Kandy and Royal Melbourne Institute of Technology, Australia where he pursued his bachelor in Aerospace and University of New South Wales, Australia reading for his MSc in Tech-Aviation.

Under his guidance, the TTASL conducted their ranking tournaments for both men and women and two ranking tournaments for both boys and girls of the Under 18 and Under 15 age groups.

The Junior and Senior nationals scheduled to be held in the first week of June has been postponed.
Herath wants to kick start provincial and district pool practices as soon as the situation is normalised and make arrangements to spread the sport to schools by providing equipment and coaches where possible. He is also instrumental in facilitating the lease of the Bandaragama Indoor Sports Complex to house the headquarters of the TTASL.

As of now table tennis is the only sport that does not have an indoor hall and has to depend on renting premises for conducting tournaments and national pool practices. This move will enable the sport to see national players regularly attending much needed training under the supervision of qualified coaches and be ready for competition at regional and international tournaments.

Reza Latiff and Saman Ratnayake were elected Secretary and Treasurer respectively.

Latiff held various senior positions in the association including that of the General Secretary in 1995/96, and was the Treasurer of the National Olympic Committee from 1997 to 2005. He was the Chef de Mission of the Sri Lankan Contingent at the SAF Games Pakistan in 2004, Deputy Chef de Mission at the SAF Games Nepal in 1999 and Administration Manager at the Asian Games Busan in 2002. A banker by profession, Reza says he wants to implement a professional and target oriented culture within the association and support the vision of the President to take the sport to the rural areas of Sri Lanka and to establish a dynamic feeder base of players to the national team.

Election Commissioner General of Sri Lanka Ratnayake is an old boy of Ananda College Colombo, has been in the TTASL previously holding posts of Treasurer and General Secretary.

The seven elected Vice Presidents for the next term are: M Namal Gunasekara (Women's Working Group), Dr. L. C. K. Liyanage (Stag TT Academy), P Sadisi Nirasha Kumari Pieris (Three Star Sports Club),
H. M. P. Lasantha Sanjeewa (Nuwaraeliya District TTA), Oshadee Owanthika Gunasekara (Tibhar Sports Club), N. B. M. B. S. Niyarepola (State Services TTA) and H. D. S. P. Wijayagunaratna (Kelaniya University).