---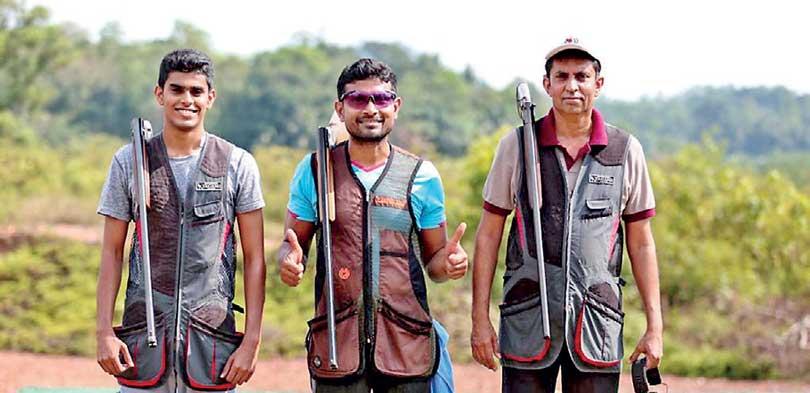 Champion shooter Rishan Dias flanked by Muditha (L) and Ambrith (R)
By Susil Premalal
Negombo Rifle Shooting Club (NRC) dominated the NSSF Trap Open Championship 2021 as Rishan Dias accumulated 34 points in the final round to clinch the overall championship of the three-day competition held at the Clay Target Shooting Club of Colombo's Shotgun Range in Payagala, Kalutara.

Dias' team mates Muditha Samaranayake and Ambrith Samaranayake won the silver and bronze medals after curling up the final round with 31 and 22 points respectively.
Anil Peries, representing Clay Target Shooting Club of Colombo (CTSCC) was placed fourth among six finalists, with 18 points, while NRC's Jeremy Fernando finished in fifth place with 16 points. Mohamed Fahim, representing Hill Country Shooting Club, earned 14 points and finished sixth.

In the Open Category, NRC continued their dominance claiming the top three positions. Muditha Samaranayake was far ahead among 12 shooters with 87 points to claim the gold medal, followed by Rishan Dias (82) and Jeremy Fernando (80) to secure the silver and bronze medals respectively.

NRC secured two podium finishes in the Masters' Category when Ambrith Samaranayake clinched the gold medal with 87 points and Dallas Martenstyn claimed the bronze medal with 69 points. Anil Peries of CTSCC missed the top position by a whisker and had to settle in with the silver medal after accumulating 86 points, just one behind the winner.
In the two new categories introduced this year, Methushal Fernando and Anitra Dharmaratne impressed as youngsters competing among much experienced seniors. Methushal took the honour of becoming the first gold medalist in the Junior Men's Category while teenager Anitra will go down in history as the first female shooter to claim the gold medal of the Youth Female's Category.

In addition NRC 'A' earned enough points to top the Team Category with Muditha.

Samaranayake, Ambrith Samaranayaka and Nihal Perera taking their team to the pinnacle. The Clay Target Shooting Club of Colombo 'A' team comprising Maurice Wambeek, Anil Peries and Lakshan Hettiarachchi, helped their team to earn the second slot, while the NRC Clay Dusters, represented by Dallas Martenstyn, Sean Silva and Rishan Dias, occupied the
third position.

The Trap Open 2021 is National Shooting Sport Federation of Sri Lanka's (NSSF) second event of the year. NSSF will conduct its Open Rifle and Pistol Championship during the month of May at the SLNS Gemunu Range in Welisara.