---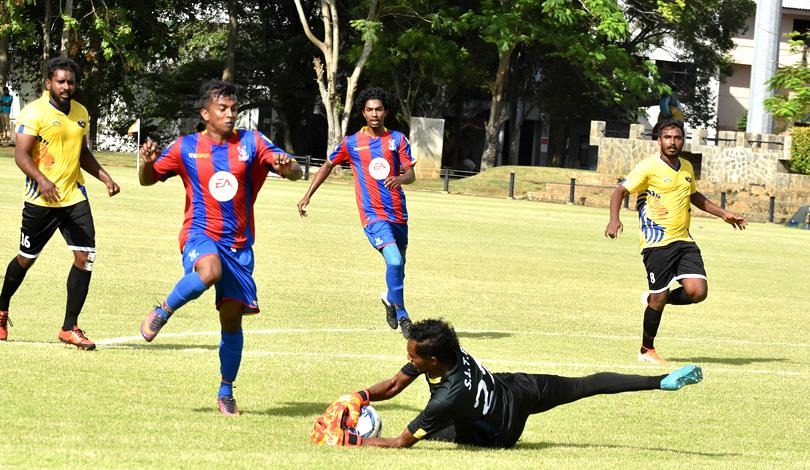 Action from the match between Crystal Palace FC and SLTB SC at Racecourse Stadium
---
By Susil Premalal
Blue Eagles SC maintained their unbeaten run defeating Colombo FC 2-0 at Sugathadasa Stadium to top Group E while SLTB SC edged out Crystal Palace FC 3-2 at Raceourse Stadium in the final league matches of the Vantage FFSL President's Cup 2020 tournament today (19).
Both Blue Eagles SC and Colombo FC have qualified to the knockout round of the competition which begins on Sunday.
Kavindu Ishan's double strike in the first quarter was enough for Blue Eagles to prevail over Colombo FC while SLTB rallied in the second half after Aba and Mehdi Azmil had given Crystal Palace a 2-0 lead at half time.
Shanmugaraja Sanjeew pulled one back in the 64th minute while Nissanka Jayaweera's brace late in the game saw SLTB emerge victorious.
The five teams to qualify as group leaders are Java Lane SC (A), New Star SC (B), Defenders FC (C), SL Police SC (D) and Blue Eagles SC (E). The three best runner-up teams to qualify were Red Star FC (C), Serendib SC (D) and Colombo FC (E).
The quarter-finals are scheduled to be worked off on August 23 and 24, the semifinals will be played on August on 27 and the final on August 31.
Blue Eagles were the only team to gain maximum nine points with three wins in the group stage.
This is the first time a major football competition is being held after the coronavirus outbreak with the participation of 20 leading clubs in the country who were divided into five groups.
The tournament is being played behind closed doors, following strict health regulations because of the coronavirus.
Matches are being streamed live through FFSL's official YouTube channel 'Sri Lanka Football TV'.
Results
Group E
Colombo FC 0 Blue Eagles SC 2 (Ishan 17' 20'); Crystal Palace FC 2 (Aba 18' Azmil 45') SLTB SC 3 (Sanjeew 64' Jayaweera 86' 89');