---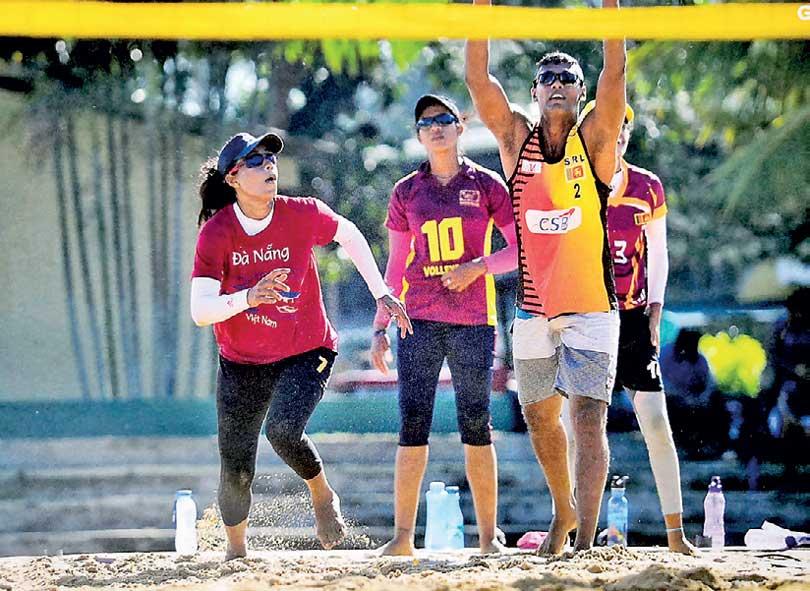 The beach volleyball National Pool would commence training from June 16
By Susil Premalal
The beach volleyball National Pool is set to commence training from June 16 at the National Youth Services Centre (NYSC) Heiyanthuduwa Beach Volleyball Grounds, according to the Sri Lanka Volleyball
Federation (SLVB).

With preparation for the 6th Asian Beach Games to be held in Sanya, China from November 28 to December 5 as their target, the beach volleyball National Pool has been formed comprising six men and six women each in addition to four trainers.

Some 40 countries are expected to take part in this biennial Asian Beach Games which consists of 19 sports.
The National Olympic Committee of Sri Lanka (NOCSL) and the Sports Ministry has decided that Sri Lanka will compete in eight disciplines.

Sri Lanka can be assured of at least a Silver Medal from both men and women at the Games, according to SLVB Secretary A. S. Nalaka.

"China and Japan are some of the leading nations in beach volleyball. So, we can't expect to go for the gold medal," he said. The federation hopes to make the final selection in November and pick four men and four women each to represent the country in beach volleyball at the Games. Sri Lanka hopes to take part in beach volleyball, beach kabaddi, 3x3 basketball, aquatics (marathon, swimming), aquathlon, teqball, surfing and beach wrestling at the Asian Beach Games.
---
Following is the beach volleyball pool:
Men: Y. H. S. Malintha Yapa (Air Force), K. A. K. Indika Tyronne (Army), P. K. Gayan Sanuja (Army), K. G. Roshan Samantha (Army), W. L. Sajeewa Chinthaka (Air Force) and Ashen Rashmika (Air Force).

Women: J. H. Dinesha Prasadini (Air Force), M. G. Deepika Bandara (MAS Casualine), Kasun Tharaka Lakshani (Navy), Chathurika Madushani Weerasinghe (Army), W. Shehani Asanga (Navy) and Nirmani Sulochana (MAS Casualine).

Coaches: Jude Mahesh Perera (Men's Head Coach), Pubudu Kumara Ekanayake (Women's Head Coach), Asanka Pradeep Kumara (Men's Assistant Coach) and Takshila Niranjali Gunasinghe (Women's Assistant Coach)