---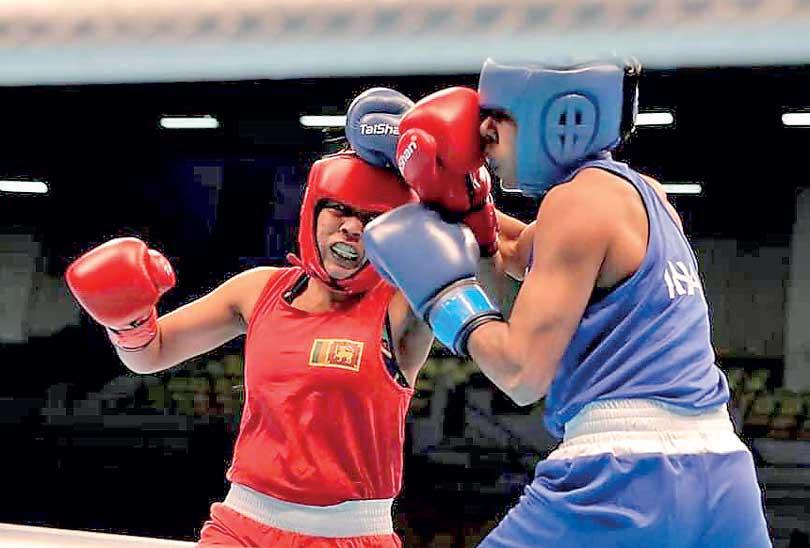 Krishmi Dharmathilaka (red) defeated her Indonesian rival at the Asian Olympic Qualifying Tournament in Jordan.
By Susil Premalal
The Boxing Association of Sri Lanka (BASL) has set its sights on winning medals at the Asian Boxing Championship to be held in India later this year.
The Boxing Federation of India (BFI) is going ahead with plans to stage this championship in New Delhi or Guwahati in November or December.

This could be the first international competition to be held after the Coronavirus pandemic, according to Lt. Col. (Rtd) Hemantha Weerasinghe, Vice-President of the BASL.
Sri Lanka is hoping to send a seven-member team comprising at least five male boxers for this tournament which is for both Men and Women competitors, he said.
The BASL is planning to begin National Pool training in preparation for the Asian tournament by conducting a trial meet in September to select boxers.

As part of their long-term development programme, the BASL is also planning to appoint a new National coach for a four-year period.

There was no National coach in the past, while a head coach was appointed for the South Asian Games (SAG) held in Kathmandu, Nepal in December.
The BASL President Dian Gomes had plans to get down a foreign coach this year but it has been deferred to 2021 because of the Coronavirus outbreak.

The BASL is gearing up to resume major tournaments and their development programmes once the COVID-19 pandemic eases and the situation in the country returns to normal in the future.
The Elite and Schools Boxing Tournaments scheduled to take place in different parts of the island were postponed over the past few months due to the Coronavirus epidemic in the country.

Meanwhile, no boxer has qualified for the Tokyo Olympics which has been postponed by a year to 2021, although Sri Lanka gained the largest haul of 11 boxing medals in the history of the South Asian Games (SAG) in Kathmandu,
Nepal in December. Rumesh Sandakelum clinched a Gold Medal in boxing after 15 years as Sri Lankan boxers won two Silver Medals and eight Bronze Medals.

Light heavyweight boxer Sandakelum, Dinesh Maduranga and Krishmi Dharmathilaka were selected to represent the country at the Asian Olympic Qualifying Tournament in Jordan without success.

Dharmathilaka succeeded in winning her opening bout against an Indonesian. They will get another chance when they compete at the World Championships which has been postponed to 2021.