---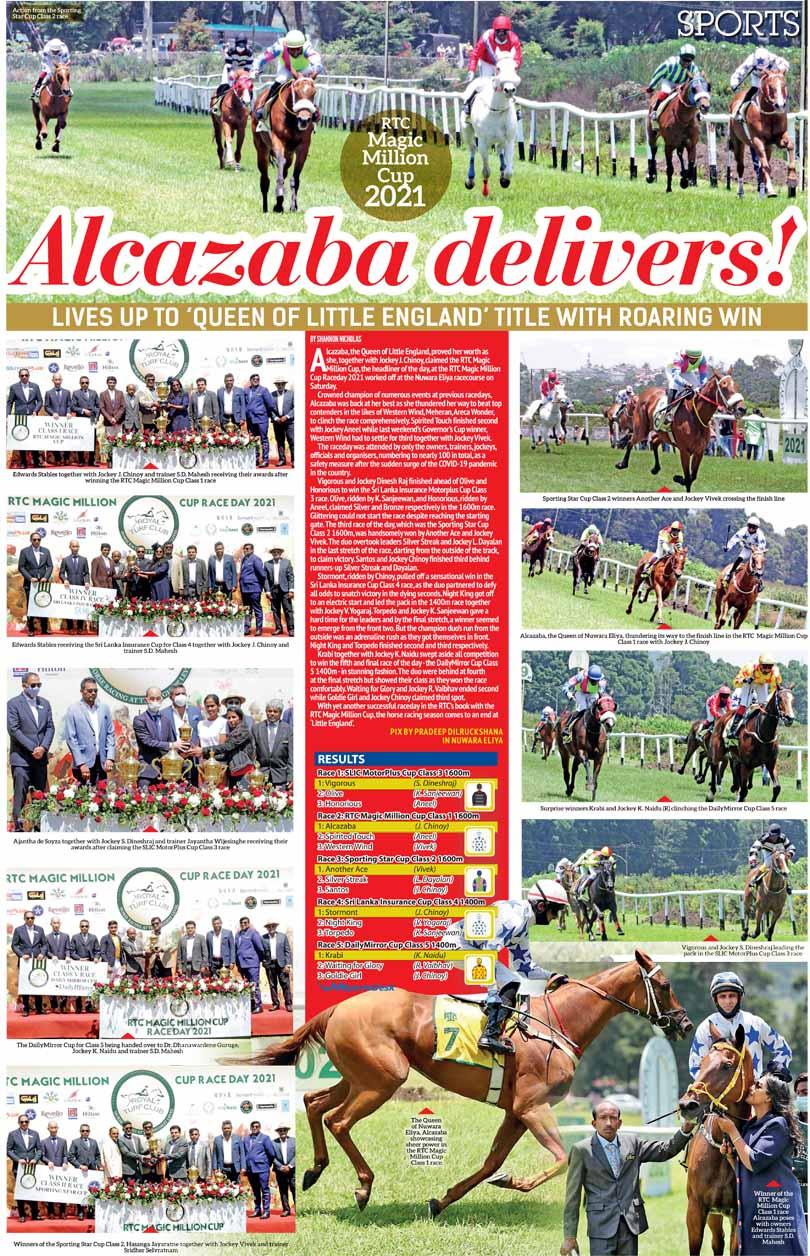 ---
By Shannon Nicholas
Alcazaba, the Queen of Little England, proved her worth as she, together with Jockey J. Chinoy, claimed the RTC Magic Million Cup, the headliner of the day, at the RTC Magic Million Cup Raceday 2021 worked off at the Nuwara Eliya racecourse on Saturday.
Crowned champion of numerous events at previous racedays, Alcazaba was back at her best as she thundered her way to beat top contenders in the likes of Western Wind, Meheran, Areca Wonder, to clinch the race comprehensively. Spirited Touch finished second with Jockey Aneel while last weekend's Governor's Cup winner, Western Wind had to settle for third together with Jockey Vivek.
The raceday was attended by only the owners, trainers, jockeys, officials and organisers, numbering to nearly 100 in total, as a safety measure after the sudden surge of the COVID-19 pandemic in the country.
Vigorous and Jockey Dinesh Raj finished ahead of Olive and Honorious to win the Sri Lanka Insurance Motorplus Cup Class 3 race. Olive, ridden by K. Sanjeewan, and Honorious, ridden by Aneel, claimed Silver and Bronze respectively in the 1600m race. Glittering could not start the race despite reaching the starting gate.
The third race of the day, which was the Sporting Star Cup Class 2 1600m, was handsomely won by Another Ace and Jockey Vivek. The duo overtook leaders Silver Streak and Jockey L. Dayalan in the last stretch of the race, darting from the outside of the track, to claim victory. Santos and Jockey Chinoy finished third behind runners-up Silver Streak and Dayalan.
Stormont, ridden by Chinoy, pulled off a sensational win in the Sri Lanka Insurance Cup Class 4 race, as the duo partnered to defy all odds to snatch victory in the dying seconds. Night King got off to an electric start and led the pack in the 1400m race together with Jockey V. Yogaraj. Torpedo and Jockey K. Sanjeewan gave a hard time for the leaders and by the final stretch, a winner seemed to emerge from the front two. But the champion duo's run from the outside was an adrenaline rush as they got themselves in front. Night King and Torpedo finished second and third respectively.
Krabi together with Jockey K. Naidu swept aside all competition to win the fifth and final race of the day - the DailyMirror Cup Class 5 1400m - in stunning fashion. The duo were behind at fourth at the final stretch but showed their class as they won the race comfortably. Waiting for Glory and Jockey R. Vaibhav ended second while Goldie Girl and Jockey Chinoy claimed third spot.
With yet another successful raceday in the RTC's book with the RTC Magic Million Cup, the horse racing season comes to an end at 'Little England'.