---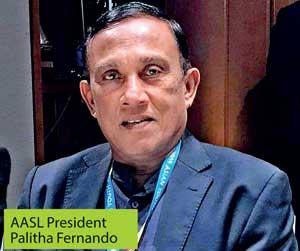 By Susil Premalal
Major General (Retired) Palitha Fernando has decided to step down as president of the Athletic Association of Sri Lanka (AASL) after the Centenary Anniversary celebrations of the athletic governing body.

The AASL will mark its Centenary on January 18, 2022, having been formed 100 years ago on January 18, 1922 as the Amateur Athletic Association of Ceylon.

Its first president was Col T. Y. Wright and Secretary was R. W. C. Cameron. Both of them were foreign nationals.
It has been recorded that athletics first began as a sport in Sri Lanka in 1896.

"I am honoured to be President of the Athletic Association of Sri Lanka when it celebrates its Centenary. I have already appointed a committee to organise the Centenary event on a grand scale."
"I also hope to step down as President of the AASL after this event but I will never give up my passion for athletics," Major General Fernando told the Daily Mirror yesterday.

Having been involved in athletics administration for nearly four decades, he served in the Executive Committee holding key positions such as Secretary, Vice-President and President of the AASL for several years.
He is the only official to have served as both Secretary and President in the 98-year history of the AASL. Major General Fernando was elected President of the AASL in 2018 with his four-year term due to end on May 31, 2022.
"I think the time I have held office as the AASL President is enough. Although I could not carry out all what I wanted to do as an athlete who came into administration, a lot of development has taken place in athletics." "I hope to finish whatever things I have not completed during the next two years. I even overlooked the administration of athletics when I was in prison at times. The result of this was Sri Lanka winning the highest number of medals in athletics at the South Asian Games (SAG) in Kathmandu. I planned our medal winning strategy from the Welikada Prison," he said.A lot of activities have been planned to celebrate AASL's Centenary on January 18 2022, chief among which is an International Invitation road run in Colombo.
Athletes from the South Asian region and Asia will be invited for the road run which will cover a distance of 20 kilometres.

In addition to the main race, there will be a 15km run for juniors, 10km race for Masters (Over-40), 5km fun run and a two-kilometre event for kids.

A commemorative stamp and coin will also be unveiled to mark the occasion while a photographic exhibition and honouring veterans of the sport will also take place.

The AASL Centenary celebrations will be held under the patronage of President Gotabaya Rajapaksa and Prime Minister Mahinda Rajapaksa while World Athletics President Sebastian Coe and Secretary Sergei Bubka will be invited as Guests of Honour for this occasion.