---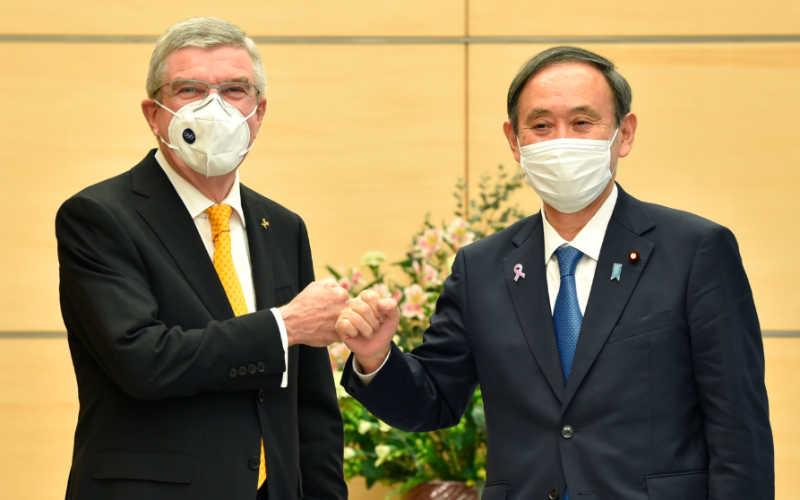 Japan's Prime Minister Yoshihide Suga (R) fistbumps IOC President Thomas Bach
---
Bach for spectators at Olympics
Not only is the President of the International Olympic Committee (IOC) confident that the Tokyo 2020 Olympic Games will take place next year, he is also positive it will take place in front of spectators.
Thomas Bach, following a meeting with Japanese Prime Minister Yoshihide Suga, said the IOC and Japanese officials are working on a raft of coronavirus countermeasures to enable the safe conduct of the Games even if the global pandemic crisis is not over.
The IOC would also work towards ensuring that as many participants are vaccinated if a vaccine were to become available, he said, though it would not be made mandatory. Bach also indicated that it would be a cost the organization would be willing to bear.
The Games were scheduled to be held in July this year, but with the global spread of the Covid-19 pandemic it was moved to July 2021, although it will still retain the "Tokyo 2020" name.
Here's IOC President Bach's comments in detail.

All Blacks down to third
The last ten days have been among the worst in recent memory for the All Blacks, who have been pushed to third in the World Rugby Rankings following their first ever defeat to Argentina last Saturday.
While it doesn't seem like it's the worst thing to be third best team in the world in any sport, the All Blacks dominated the rankings for almost a decade, having held the top spot for a whopping 507 weeks from 2009 to 2019. It was also the first time they lost back to back games since 2011.
A semi-final defeat to England in last year's Rugby World Cup saw them drop down to third, but they promptly gained a place when they defeated Wales in the bronze medal match.
Argentina, meanwhile, moved up two places to eighth, with newly crowned Six Nations champions England taking over the second spot from New Zealand.
Harsh welcome for Schwartzman
Argentina's Diego Schwartzman had a tough introduction in his first ever ATP Finals match, ending up on the wrong side of a 6-3, 6-2 result on Monday.
It would have hardly come as a surprise to the lowest seeded player in the tournament considering he faced world number one Novak Djokovic who, seeking to tie Roger Federer's record of six titles at this year-end event, was in imperious form.
Russia's Daniil Medvedev beat Alexander Zverev 6-3, 6-4 in the other match played on Monday.
Photo credit: Kazuhiro Nogi/Pool/AFP