---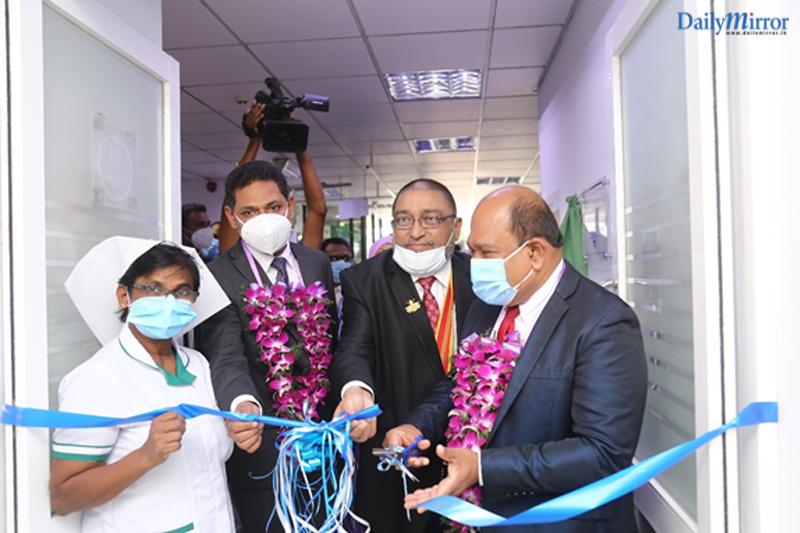 From Right to Left Dr Amal Harsha De Silva (Former DDG Healthcare Services), Professor Rezvi Sheriff (Consultant Nephrologist and Chairman Western Hospital), Dr Rushdie Nizam (Consultant Nephrologist Kalubowila Hospiatal) and Sister Kumari Rajapakshe (Sister In Charge of Dialysis at Western Hospital) cuts the opening ribbon for the opening of the New Western Dialysis Unit Powered by worlds number 1 dialysis company Fresenius Medical Care on WKD 2021
The 2021 world kidney day was celebrated by Western Hospital (WH) in a covid19 safe environment. Western Hospital an ISO 9001:2015 QMS certified hospital is the pioneer and the leader in Kidney Transplantation and Dialysis in Sri Lanka was the first hospital in Sri Lanka to Celebrate World Kidney Day (WKD) approximately 15 years ago. Western Hospital celebrated WKD 2021 based on the theme given by ISN "Living well with kidney disease" Dr. Amal Harsha De Silva (Former DDG Ministry of Health) and Dr. Rushdi Nizam (Consultant Nephrologist Kalubowila Hospital) were chief guest's and Professor Rezvi Sheriff (Chairman Western Hospital) graced the occasion which was televised on HI Tv and broadcasted on Sirasa FM.

During the World Kidney Day two important dialysis units were set up. One Unit Called the Wijaya Ransi Memorial Mercy Dialysis Center was initiated commemorating the Late Mr. Wijaya Ransi. What's special about the center is the introduction of Sri Lanka's most affordable dialysis in the private health sector for LKR 4950 per session in which president fund patients can also apply. This initiative will help poor Sri Lankan's get an affordable solution for dialysis.

The other dialysis unit set up for WKD was the New Western Hemodialysis Center powered by the world's number 1 MNC for dialysis & dialysis equipment Fresenius Medical care was inaugurated. The pricing of the care will be relatively the same as previously but the center is now developed on par with international standards even for holiday dialysis patients and also produces better clinical outcomes for patients. The center boasts of Brand New Fresenius 4008s Dialysis Machines, Aqua B+ R/O machines which can produce bio grade water, Ultra pure dialysis fluid, ICU care for emergency patients, Comfortable dialysis chairs , Electric reclining chairs and Tv's in an ambient setting for patient comfort and most importantly experienced nephrologists, dialysis nurses and technicians who have undertaken more than 120,000 dialysis over 35 years.

Also Western hospital Launched its new website on WKD 2021 including some better features such as a user friendly GUI interface, online chatbot for pharmacy & laboratory, online laboratory report, generation, online doctor channeling, foreign bill payments, 360 degree virtual tours of the hospital facilities and also the website features a lot of useful information for patients including a knowledge hub to educate people on diseases and procedures. The website can be viewed on www.westernhospital.lk and was developed in collaboration with Benworld Wide, Arogya Life Systems, Doc990 and 21cc.

In addition on WKD 2021 Western Hospital launched a very affordable kidney screening package for LKR 500/- in which people above the age of 50 years gets 50% off. Furthermore Patient education through speeches with chief guests, Public educational Leaflet Distribution on Renal diseases, Educational videos on renal diet and exercise and also Competitions such as GR8 selfie competition and Answer, Share and Win Competition was undertaken on the day. However the regular free clinic, educational seminars and public walk for the year did not take place during the WKD 2021 but is expected take place again after the pandemic is stabilized.