---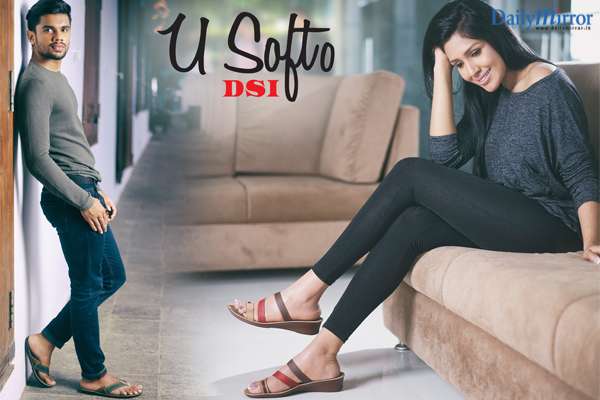 As an organization that has shown itself to be centered around the customer, DSI has always made it a point to take the needs of the consumer into consideration when it comes to producing exceptional footwear, based on local fashion requirements. The organization's long list of local brands and the popularity of these are a testament to this fact.One such brand known for its comfortable, durable and fashionable products is U Softo.
U Softo is locally produced and theuse of PU pouring technology enhances the durability of the product, thus the footwear lasts longer. This is a useful feature, especially in a climate such as that of Sri Lanka. The foot bed technology inherent to the brand ensures the utmost comfort for the wearer. By using high quality materials and the latest technology, U Softo products are able to boast an excellent finish.
U Softo features a wide range of footwear for ladies, gents and children. Ladies and gents can find a colorful selection of slippers and sandals to suit all casual occasions, guaranteed to make the wearer feel stylish and more importantly comfortable. The price of U Softo starts at Rs. 749.90 onwards and is available at all DSI showrooms and dealers island wide. U Softo is also one of the many brands included on the DSI shopping website - DSI Footcandy. So anyone on the lookout for comfortable, fashionable and long-lasting footwear can simply purchase the perfect shoe, sandal or slipper without even having to leave the house. You can also find out more about the brand on its Facebook page DSI U Softo.
One of the largest retail networks in the country, D. Samson & Sons (Pvt) Ltdis the distribution and marketing arm of the DSI Samson Group, and serves as the sole distributor of a number of local footwear brands including, DSI, Ranpa, Samsons, Supersport, Beat, Beach, Petalz, Fun Souls, Tamik, Waves, Jessica and AVI as well as popular international brands such as, Clarks, Redtape, Florsheim, Reebok, Puma, Fila, U.S Polo, Arrow, W and Aurelia. The company network spans more than 200 company outlets, 4000 dealers and 50 sales representatives island wide. All of which are involved in fulfilling the company's vision of creating a customer-centric business.