---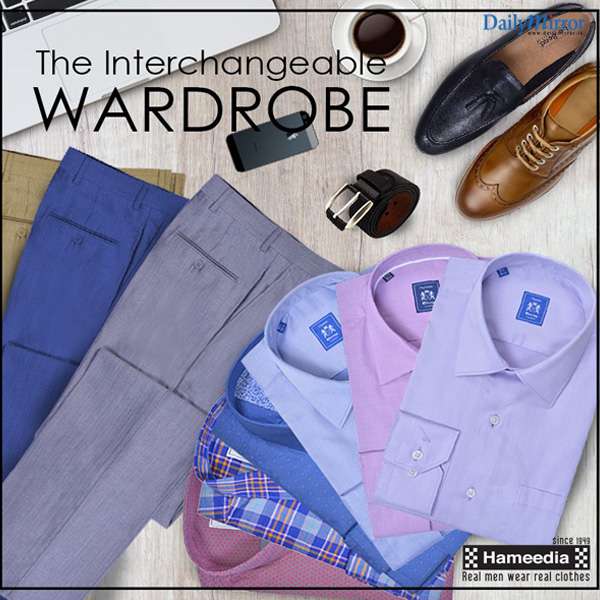 Fulfilling public expectations as an exciting brand that keeps adding value to its loyal clientele, menswear specialist Hameedia has launched 'The Interchangeable Wardrobe' for men to upgrade their wardrobes in the year 2019. Heralding the New Year with a brand new promotion, Hameedia encourages men to enhance their dress sense in 2019 with a twist. Hameedia's 'The Interchangeable Wardrobe' consists of 12 items that can generate 36 different looks, at an unbelievable price. The promotion will be available from 10th January onwards at selected Hameedia showrooms.
Commenting on the campaign, Fouzul Hameed, Managing Director of Hameedia said: "The best way to herald the New Year in a positive manner is by adopting a fresh new outlook to life and by freshening up your wardrobe - because if you look good, you feel good about yourself! 'The Interchangeable Wardrobe' by Hameedia simplifies the eternal challenge of picking out clothes every morning by recommending 12 basic pieces of clothing which can be mixed and matched in different ways to produce 36 effortless new looks. Economical and yet classy, these pieces bring ease to power dressing for success and help streamline your wardrobe, such that you wear all the looks regularly!"
Adding further, he describes 'The Interchangeable Wardrobe' as one in which every piece of clothing can be worn with each other. This concept offers various benefits such as less clutter in your wardrobe, quality clothes, greater clothing combinations, and less time spent on worrying about what to wear.
Hameedia's 'The Interchangeable Wardrobe' requires customers to purchase 12 basic pieces, consisting of 6 shirts, 3 pants, 2 shoes and a belt, however, customers are free to select any brand of their choiceand they can add any additional products they wantto the wardrobe on top of the 12 items. Hameedia stores are known for friendly staff who patiently guide customers to select the right fit that most suits their personalities.
'The Interchangeable Wardrobe' is available at Envoy Mansion, Wellawatta, Nugegoda, Rajagiriya, Kurunagala, Kandy, World Trade Center, Negambo, Wattala and Palawatta. Further details about 'The Interchangeable Wardrobe' can be obtained by calling 077 742 2677.
Since its inception in 1949, Hameedia has cemented its place as the preferred menswear specialist in Sri Lanka with its world-class quality, custom tailoring and ready-made clothing. The company continues to make its presence felt locally and internationally with Hameedia outlets across Sri Lanka and stores in the Seychelles, Maldives and Australia respectively. Along with its own branded clothing and accessories, which includes FH, Envoy, Le Bond and Signature, Hameedia also showcases international brands such as Raymond, Lee and Adidas.