---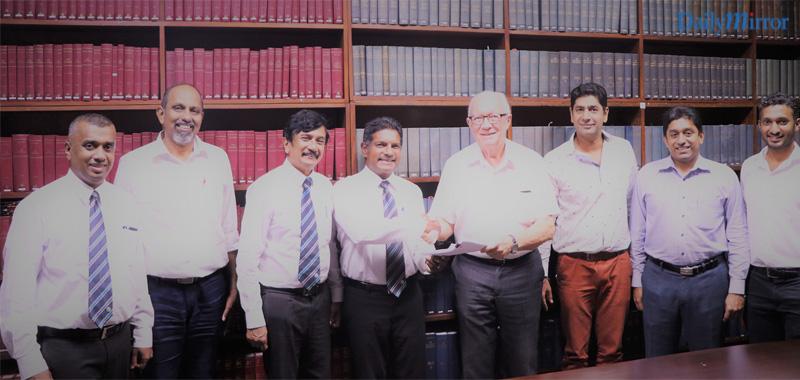 Left to right are: Mr. Champika Coomasaru - CFO, ACL Cables, Mr. Anil Surana - Director, Cable Solutions, Mr. Daya Wahalatantiri - Director, ACL Cables, Mr. Suren Madanayake - MD, ACL Cables, Mr. Rune Flinth - Chairman - Cable Solutions, Mr. Pawan Tejwani - MD, Cable Solutions, Mr. Chehan Perera - MD, Tempest PE Partners, Mr. Sandeep Jayawardena - Tempest PE Partners
A consortium of investors put together by Tempest PE Partners (Pvt) Ltd has acquired a 75% stake in specialist cable manufacturer Cable Solutions (Private) Limited ("CSOL") from three of its foreign shareholders for Rs 710 mil. The transaction was completed subsequent to an internal restructuring whereby CSOL's enterprise value was pegged at over USD 7 mil.

Tempest PE Partners is a recently formed private equity firm and is a joint venture between Capital Alliance Holdings, one of Sri Lanka's leading investment banks and Insite Holdings, an investment holding company with regional equities experience.

Asia Securities Advisors were the exclusive sell side financial advisors, who managed all aspects of the transaction, including articulating the equity thesis, generating investor interest, managing the due diligence process, negotiations and transaction closure.

Sri Lanka's largest cable manufacturer ACL Cables PLC took a lead role in the consortium by acquiring a strategic 51% stake, while the balance was taken up by four financial investors: the Hirdaramani Group, Associated Electricals, P&S Group and Insite Holdings, while Tempest also acquired a small direct stake in the company.
CSOL, which began operations in 2007, is a BOI registered company and operates out of a 2-acre facility in Kadawatha. The company manufactures superior performance cables customized to specific applications, which are exported to customers worldwide. The company generates 95% of its revenue from exports, with key clients in the US, European, Indian and Australian markets.

The product portfolio offers a wide range of cables from bare conductors to specialty cables. While key industry segments (automotive, loadcells, solar, electronics and telecoms) are sizeable and offer strong organic growth, the company has also developed strategic relationships with key customers who have a strong presence in the respective end markets.

The company acquired Harness Solutions in 2017, allowing the company to move further down the supply chain and uniquely position itself as a one-stop shop for its clientele while adding to its' capacity to sustain mid to high teens topline growth over the next 3-4 years.

CSOL has been able to differentiate itself from its peers and generate superior margins and ROE's in the high 20's driven by strong R&D capabilities and the customized nature of its products. Based on CSOL's performance over the first three quarters of fiscal year 2019/20, the company is on track to almost double its topline and more than double its net profits compared to three years ago.

In addition, despite being a mid-sized manufacturer, CSOL has made a conscious effort to balance carbon emissions and ensure a sustainable operating environment. In this regard, the company reached carbon neutrality a few months ago through the completion of the second phase of its roof top solar project.

Commenting on the acquisition, Mr. Suren Madanayake, the Managing Director of ACL Cables said that: "this acquisition is of strategic importance to ACL, as it helps us to diversify our product range as well as customer base and increase our presence in the export market. Going forward, we envisage a lot of synergies between ACL and CSOL in terms of procurements, R&D, cross-selling and operational efficiencies. We are confident the promising growth prospects of CSOL will yield attractive returns on our investment. We are also delighted to partner with Tempest who put together this transaction and the management team led by Mr. Rune Flinth and Mr. Pawan Tejwani with who we will drive the future growth of the business.

Mr. Tejwani sees value addition to CSOL by being a part of the largest cable manufacturing group in Sri Lanka. He believes the strong research and production capabilities of CSOL, which are unique in the region, combined with ACL's expertise will help drive CSOL's next growth phase. Mr. Tejwani is confident that CSOL will help position Sri Lanka as a niche electronics component manufacturer in the long term.

Chehan Perera, Managing Director of Tempest PE added: we see significant room for CSOL to scale up its operations over the next few years through targeted expansion into new regions, new major client wins, and deepening the wallet share of its existing customer base. What is also compelling is that CSOL's top 03 customers have been growing in the high teens over the past few years and we see sustained momentum from them going forward. Whilst manufacturing is not a key focus area for Tempest, we were impressed by the company's management team led by Mr. Rune Flinth and Mr. Pawan Tejwani, which is clearly seen by its superior ROEs, strong cashflows and healthy balance sheet. We were also very pleased that ACL agreed to lead our consortium as we see significant synergies and potential cross-selling opportunities between the two Groups. There is little, if any, overlap in products and customers between the two.

A key highlight of the acquisition is that the two main founders of the company – Chairman Rune Flinth and Managing Director Pawan Tejwani will continue to play an active role in the company, retaining the same positions.
CSOL is expected to make a net profit of approximately USD1 mil in 2019, on the back of a solid EBITDA of just under USD 1.6 mil. The company has a relatively low level of debt and the consortium sees room for further improvements in efficiency through a close working relationship with ACL, better working capital management and combined product sourcing.