---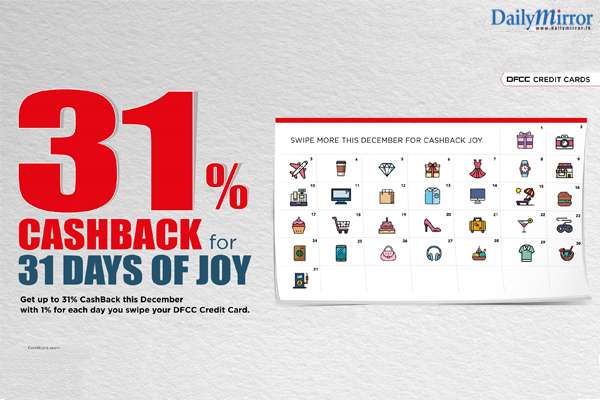 Christmas and New Year is an eagerly awaited holiday season for people in Sri Lanka, with family and friends coming together to spend time and exchange gifts. It is a joyous season when people aspire to enjoy the best lifestyle possible – be it shopping, gifting or dining out. In line with this, DFCC Bank is pleased to introduce an attractive Credit Card offer for the season titled, '31 Days CashBack for 31 Days of Joy'.
This season, DFCC credit cardholders can enjoy up to 31% CashBack on their total spend during the month of December. All they need to do is spend a minimum of Rs. 2000 daily and based on the number of days they spend this value, the cardholder will get up to a maximum of 31% at the end of the month. The more number of days they swipe, the more Cashback they will receive. i.e. 31% for 31 days of usage, 20% for 20 days of usage etc. The maximum CashBack amount for a DFCC Gold Card is Rs.10,000; for a Platinum Card – Rs.15,000; for a Signature Card - Rs. 20,000 and for an Infinite Card - Rs. 30,000.
Lakshman Silva, CEO DFCC Bank says, "As a Bank that is focused on the needs of our customers and is committed to enhancing their experience, we are pleased to introduce this offer which enables our credit card members to enjoy the season to the fullest and grow their savings at the same time. This offer will be valid till the 31st of December to ensure that our credit card customers enjoy a truly memorable season."
DFCC cardholders can also enjoy up to 50% discounts at a wide range of merchant outlets this season in categories such as household items, electronics, clothing, supermarkets and dining, hotels and travel. For more details on the DFCC credit card offers or to apply for a new DFCC Credit Card, customers can visit www.dfcc.lk or drop into their nearest branch.
DFCC Bank PLC is a fully-fledged commercial bank offering the full gamut of commercial and development banking services. The Sri Lanka Institute of Management Accountants (CIMA) and the International Chamber of Commerce of Sri Lanka (ICCSL) has announced DFCC Bank as one of the ten "most admired companies" in Sri Lanka for 2018. The Bank was also ranked No 14, in Business Today's list of Top 30 businesses in Sri Lanka. Fitch Ratings Lanka Limited has rated DFCC AA- (lka).