---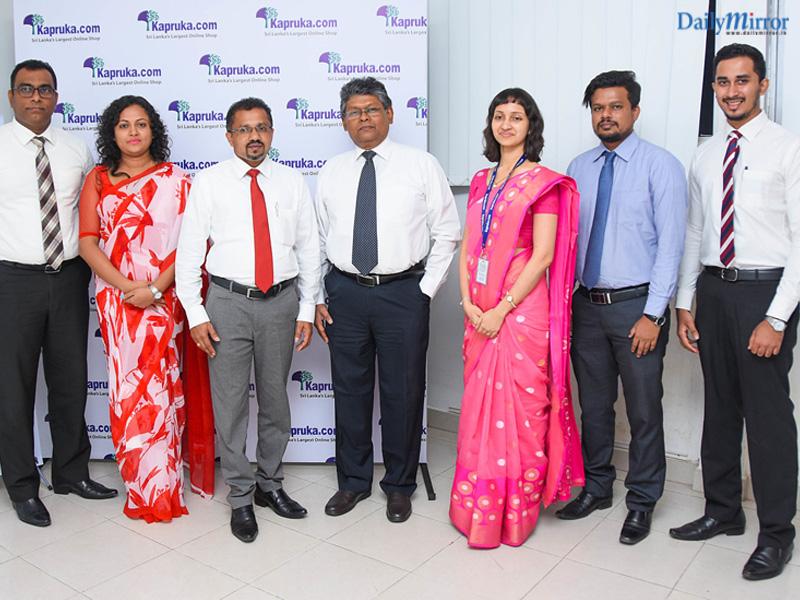 Chinthaka Dias (National Sales Manager –Swarnamahal), Shamila De Silva (Asst. Manager – Marketing, Swarnamahal), Dinesh Fernando (CEO, Swarnamahal), Lalith C. Perera–(CEO/ Director-Kapruka) Praveeni Jayasekera (Head of Operations- Kapruka), Suresh Eranda–(Marketing Manager -Kapruka) &Rilwan Mohammed (Marketing Specialist – Kapruka)
Swarnamahal Jewellers, a Ben Holdings Company, Sri Lanka's largest retail jeweller renowned for its bespoke craftsmanship, has partnered Kapruka, the Country's No 1 E-Commerce player.
Alex Lovell, Chairman of Ben Holdings said, "The partnership sees the launch of an exclusive Swarnamahal jewellery range available only online with Kapruka. The customer of today is looking for convenience and a brand experiences delivered to their door step. This move from Swarnamahal is part of a holistic brand rejuvenation that is unfolding in the coming months and the tie-up brings us closer to the customer experience that we wish to create through our Brands."
"Swarnamahal has a tremendous demand from Sri Lankans located across the globe and we have launched an exclusive collection that is only available online to cater to this need. We also see this as an opportunity to take Sri Lankan craftsmanship to the world and would be expanding our virtual footprint even as we consolidate our leadership in the physical retail jewellery market in the coming months" added Dinesh Fernando, CEO of Swarnamahal.
With more than 25 designs now available through the Kapruka website, customers can experience their special piece or deliver a golden moment to someone special with just a few clicks. Backed by the superior logistics solutions of Kapruka the product and process are guaranteed by Swarnamahal and Kapruka.
Lalith C. Perera, CEO of Kapruka commenting on the tie-up said, "We are delighted to welcome aboard Swarnamahal to our dynamic e-commerce experience. It is certainly great to see the company launching an exclusive collection. Many local retailers see e-commerce only as an extension of their physical store inventory. It is great to see Swarnamahal identifying the online channel as a stand-alone customer experience that can hold its own and provide a strategic growth vertical for them."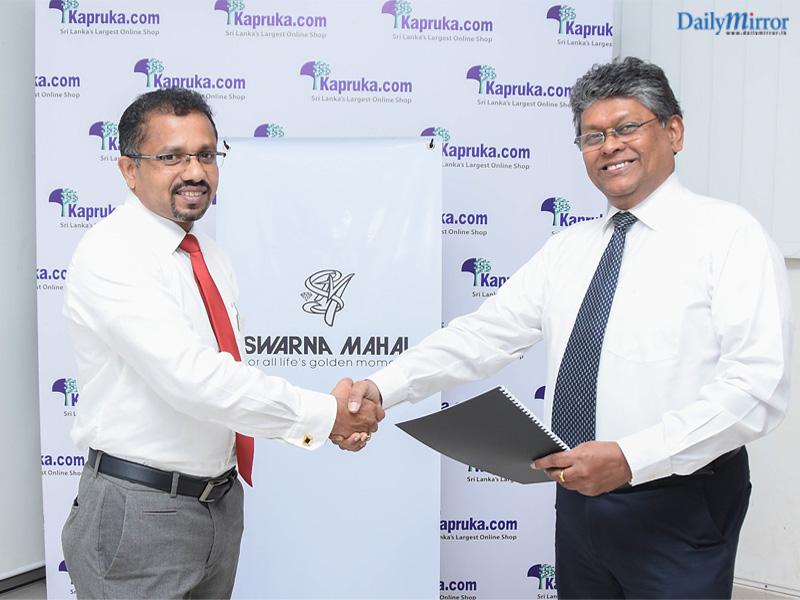 Exchange of Agreements between Dinesh Fernando (CEO, Swarnamahal) and Lalith C. Perera – (CEO/ Director-Kapruka)
Swarnamahal has 14 branches island wide and was recently presented the ''Best Jewellery Designer & Best Jewellery Design Award' by the National Gem and Jewellery Authority at its Silver Jubilee Presidential Awards ceremony. The Company is part of the Ben Holdings Group.
Kapruka is Sri Lanka's largest e-commerce organization. With over 25000 products and 30 types of distinct services Kapruka has set the bar for the e-commerce footprint of Sri Lanka. Kapruka remains ambitious and committed towards finding original ways of connecting Sri Lankans across the world and bringing the best of products to Sri Lankans through digital means.