---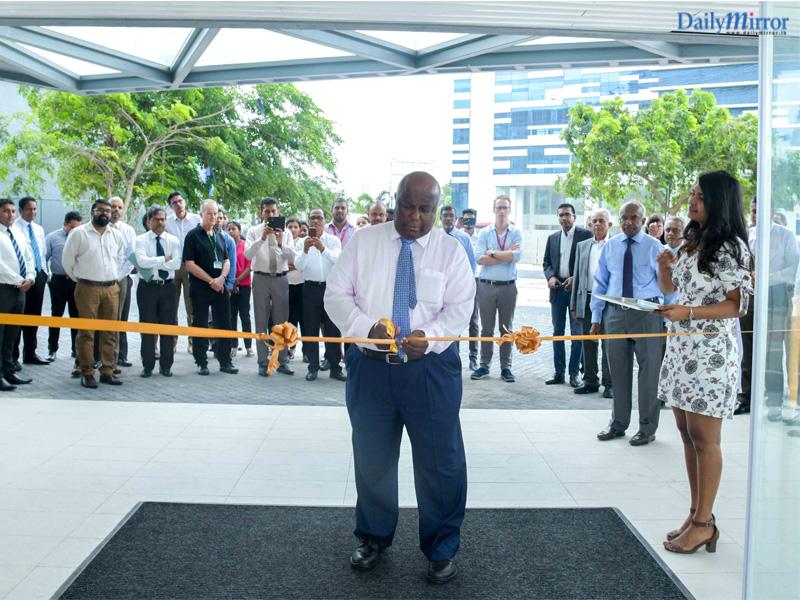 A.S.G. Gnanam, Director of Orion City opening the premises
Colombo's highly anticipated Orion City Towers opened on Wednesday 17 July. This transformational 500,000 square foot structure challenges the Colombo skyline and promises its occupants the height of sophisticated end to end business solutions. It will be occupied by Sri Lanka's corporate movers and shakers and forms a part of the developmental masterplan of the Orion City IT Park- the unique one stop hub for innovation and collaboration in Sri Lanka.
The towers soaring above its neighbours into the skyline at an impressive 85 meters- offer up to 20 levels of prime office space for rent with ancillary facilities such as retail and commercial areas, a boutique sky hotel, green eco decks and a sky courtyard. The topmost floor is home to a fully equipped gym, business centre, lounge areas, meeting venues and private dining facilities. Occupants will never want for anything once they enter the complex, says Orion City Managing Director E.J. Gnanam. "We've built Orion Towers, to be a city within a city- the crown jewel of the Orion City IT Park," he says. "Buildings should challenge and inspire- our partnership with DP Architects Singapore and the Balmond Studio has delivered a stunning structure for work and play."
It was Tower One that opened for occupation in July. The first level of the tower is a retail mall space with banks, a laundromat, homeware, supermarket and bakery; and a food court at the second level, with parking spaces from levels 3-8. Level 9 will be home to a co-working space known as 'NEST'. The office spaces will be housed in levels 10-18 with a business hotel Elyon Colombo managed by Elyon on levels 19-20. The tower also includes a sky garden, restaurant and bar.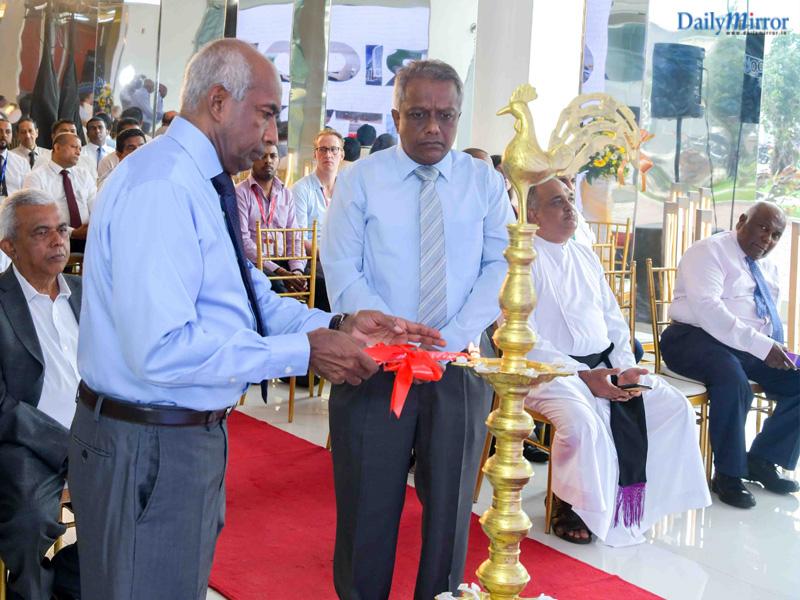 S.R. Gnanam, Chairman of Orion Towers lights the oil lamp joined by E.J. Gnanam Managing Director of Orion City
For the Orion Towers Project, our aim was also to create office spaces which met international standards needed to foster start-ups, positioning them on par with the world's leaders in business," says Mr. Wickremaratne, General Manager of Orion Towers. "We are extremely excited to be able to open our doors to the public and to our current and future tenants, and we look forward to seeing our vision through for the benefit of the buzzing start-up sector in Sri Lanka."
Tower ONE conforms to stringent international standards and regulations and is also LEED Gold certified, one of the only structures to do so in Colombo. This comes on the heels of a sophisticated energy efficient building design considering that Orion offers its occupants energy saving systems to enable 24/7 operations, fully serviced stations, plug-and-play workstations and expandable offices. Companies can even use the prestigious Orion address as a virtual office while Orion NEST aims to provide a nurturing environment for start-up growth. The unique positioning of Orion NEST at a space for industry giants is deliberate, to encourage likeminded start-ups to share a co-working space with each other and network with established industry leaders.
The entire building overlooks Baseline Road in Colombo 09-close proximity to the heart of the city's commercial hubs with enough space for companies to breathe, think and grow. The city within a city concept means everything a company needs is at its fingertips, says Head of Marketing Jehanki Anandha. "Orion City brings end to end IT infrastructure solutions for IT and BPO companies, taking that need out of the equation so companies can focus on servicing their client needs. IT companies thrive when they work in proximity to each other- obviously in terms of cutting costs but also when it comes to innovation and collaboration. That's the vision for the Orion City IT Park and Orion Towers by extension."
Touted to be Colombo's next one-stop urban address for innovation and collaboration, Orion Towers is housed within the country's largest and most successful IT hub, located on Baseline Road in Colombo 09: The Orion City IT Park. The flagship development of the St. Anthony's Group- one of the largest privately-owned groups in Sri Lanka- was launched in 2014.
Construction of the major project started in 2015, and ever since its announcement in 2014, has attracted increasing interest by both local and foreign investors. As testament to the fact, the towers boasted 100% occupancy on the opening day, with big names IFS, Virtusa, CAMSO, Synopsys, MOQ and many more all geared to commence operations from their new office address.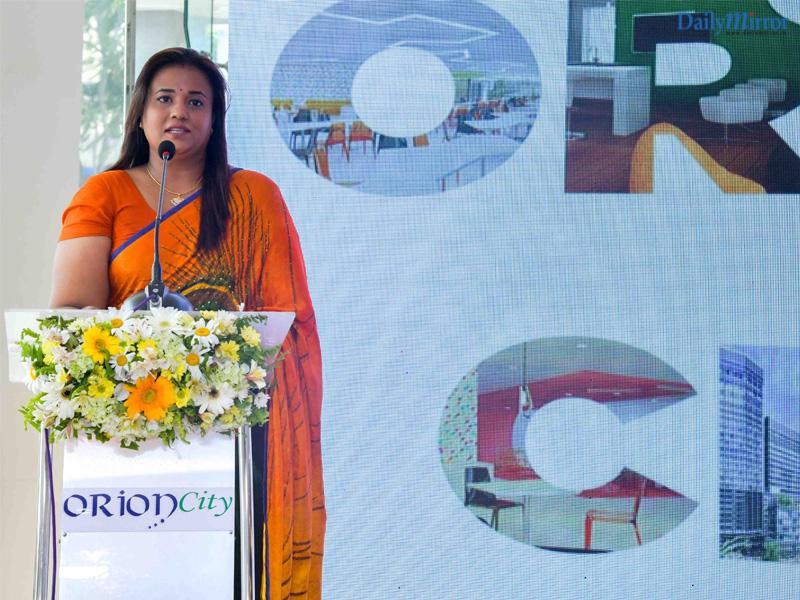 Jehanki Anandha, Head of Marketing at Orion City delivering the vote of thanks