---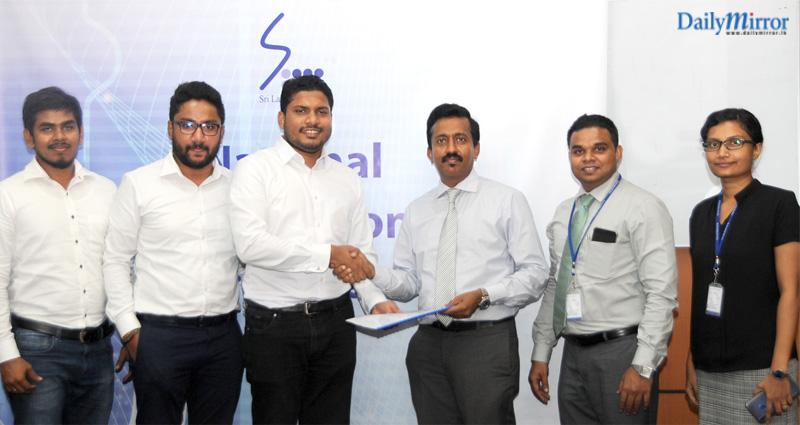 Mr. Karvin Mendis - Head of Product Development/ Bhasha, Mr. Sanoj Siriwardana - Head of Marketing & Operations/Bhasha, Mr. Dhanika Perera – Founder and CEO/ Bhasha, Mr. Prabhath Dahanayake - Chief Marketing Officer/SLT, Mr. Charles Ranaweera – DGM-Digital Products/SLT, Ms. Hancy Wickramarathne - Manager Marketing/SLT.

.Sri Lanka Telecom (SLT), the leading ICT and digital solutions provider in the country entered into a landmark agreement with Bhasha Lanka (Pvt) Ltd, the pioneer consumer digital services provider in Sri Lanka, to increase convenience to the general public in finding essential services online.
The memorandum of understanding (MoU) between the two companies was signed recently at SLT head office premises in Colombo Fort, by authorized signatories: Mr. Dhanika Perera – CEO and Founder of Bhasha Lanka (Pvt) Ltd, Mr. Prabhath Dahanayake- Chief Marketing Officer of SLT. Some officials from both companies were also present to witness the signing of the MoU.

Under the MoU, SLT will facilitate their customers to subscribe for Bhasha's digital services and pay via "PaywithSLT" online cashless payment option. Using this payment option, SLT customers are assured of subscribing and paying for services of Bhasha delivered through their flagship Mobile App Helakuru, in the most convenient and secured manner.
This partnership is in line with SLT's vision of becoming Sri Lanka's preferred digital lifestyle partner and is part of a series of endeavors embarked on by the company to introduce innovative digital services to enhance living standards of citizens of Sri Lanka. The Chief Marketing Officer of SLT, Prabhath. Dahanayake gave his comments concerning the MoU saying, "We keep and act upon our promise to be the national ICT and digital services provider to the nation. This is one such initiative that we have embarked on to fulfil our promise to the nation, by enabling and facilitating digital lifestyles for the citizens of Sri Lanka. SLT invites start-ups, students and educational institutes as well as others with innovative and creative ideas to partner with us so that we can support and empower you to take your innovative ideas to the nation."
Dhanika Perera, the Founder & CEO of Bhasha also gave his comments saying, "This partnership will provide us access to SLT's large customer base that spans across all parts of Sri Lanka, which will enable us to successfully expand our services to consumers across the country, enabling us to serve & empower more people in Sri Lanka, no matter what part of the island they live in."
Bhasha Lanka (Pvt) Ltd is an award-winning software product company which innovates, designs, develops & market home-grown software products & deliver localized digital services for local masses through those products. Bhasha's flagship product is Helakuru, which currently empowers more than 5 Million Sri Lankans to write Sinhala digitally. Helakuru is now evolving further as a digital services hub delivering many lifestyle digital services through a single app, further empowering the day-to-day lives of their massive consumer base with more digital services.