---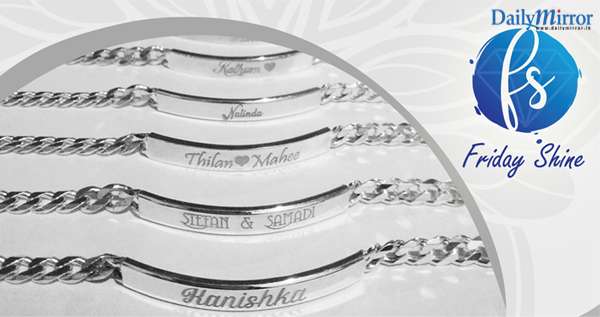 Every day is an opportunity for us to celebrate the people in our lives. Certain days, ascertain their importance even more. It is the week of love, and we are in the midst of celebrating our significant others and special some ones. We are glad that they were by our sides during thick and thin, and supported us through difficult times. They need a special gift- unique, precious and a keep sake, much like them. If you are at a loss for gift ideas, we know exactly what the ideal Valentine's Day gift for your boyfriend/girlfriend is! Friday Shine brings you the perfect handmade gifts in Sri Lanka to thank these special super humans who make lives a lot more pleasant. As specializers in silver jewellery, Friday Shine will work with you to bring custom designed pieces of jewellery to life, for your partner.
What says 'I Love You' more than a cute little name necklace, personalized silvername bracelet or something that both of you could wear – couple bracelets. The best part of the whole Friday Shine experience is that, it does not involve grueling visits to the store. Yes, Friday Shine has taken purchasing personalized gifts in Sri Lanka, to a new level of convenience. You only have to share your gift ideas with us and our expert craftsmen will work towards crafting the best pieces of lover's day gifts. Now are you ready to bring back the shiny smile on your partner's face?
Friday Shine is an online jewellery store that prides on bringing the best birthday gifts , engagement gifts andanniversary gifts in Sri Lanka. It specializes in silver jewellery, crafted using materials of stellar quality. In the, 10 months in operation Friday Shine caters to a wide clientele from around the island.