---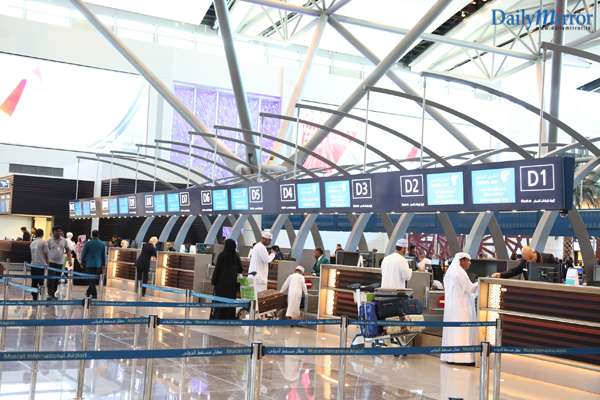 Oman Air, the national airline for the Sultanate of Oman, started its operations from the New Passenger Terminal atthe Muscat International Airport from 20 March 2018.All incoming and outgoing flights were transferred from the current terminal to the new passenger terminal.
The new passenger terminalopening has been eagerly anticipated and, as a key stakeholder, Oman Air is proud to be operating up to 200 flights per day from the new state-of-the-art new terminal.
The new passenger terminal has been designed to be ashining symbol of the modern state of Oman being built by His Majesty Sultan Qaboos bin Said. The hub will be a significant boost to Oman's already flourishing travel sector as it will have the capacity to handle 12 million passengers per year and its runway will be able accommodate the world's largest aircraft, the Airbus A380, and independent parallel operation. The airport also boasts a number of excellent facilities including 6,000 square metres of Duty Free shopping, 96 check-in counters, 8,000 parking spaces and a 90-room airside hotel.
The new terminal will allow Oman Air to offer a thoroughly enhanced service; the check-in process will be seamless for all guests and Premium Class guests will be able to avail themselves of designated check in areas and entrances. Entrance A is for all Business Class passengers and allows Oman Air guests'access to the airline's dedicated First and Business Class check-in lounge. Entrance B is for Oman Air's Economy Class guests and entrance C for all other airlines' Economy Class guests offering access to the Economy Class check in area.
Once in the airport there are designated check-in areas for Premium Class Oman Air guests. First & Business Class guests will be served separately through 12 check-in counters and three supervisor counters. Oman Air will offer premium concierge services at check-in with seating and soft drinks provided, as guests complete the check-in process. There are a further 24 counters in total exclusively for Oman Air economy class guests.
Oman Air First & Business Class guests can enjoy the unique Omani hospitality at the stylish Premium Lounges which offer an oasis of calm, located above Muscat Duty Free and next to the airside hotel. The beautiful interiors created in the lounges have been influenced by the unique terrain found in Oman. The elegant and tranquil surroundings are enriched by the abundance of natural light which floods the spaces.
The First Class lounge offers exceptional services, including a personal chef, limousine service from the lounge to the aircraft and relaxation rooms.The Business Class lounge offers an extensive array of snacks and full dining options, a quiet lounge area, shower rooms, a children's play area, wireless internet access and a business centre.Gold members of Oman Air's Sindbad frequent flyer programme will also be welcome to use the Business Class lounge. Guests who have previously used Oman Air's existing lounges will be impressed further still by the new facilities.
The opening of the new Passenger Terminal has long been anticipated and is a momentous occasion in the Sultanate's history. Oman Air is confident that this new development will allow it to offer its valued guests a new level of service that is sure to exceed their high expectations. In 2018 Oman Air has already announced the arrival of new aircraft, new routes to Istanbul, Casablanca and Moscow, as well as an expansion of existing services.
Oman Air has been very closely involved in this exciting and important new project for the Sultanate and looks forward to warmly welcoming all its valued guests to the magnificent new airport. The opening of the new terminal will further facilitate the airline's exciting fleet and network expansion programme, which will see Oman Air operate up to 66 aircraft to around 60 destinations by 2022.