---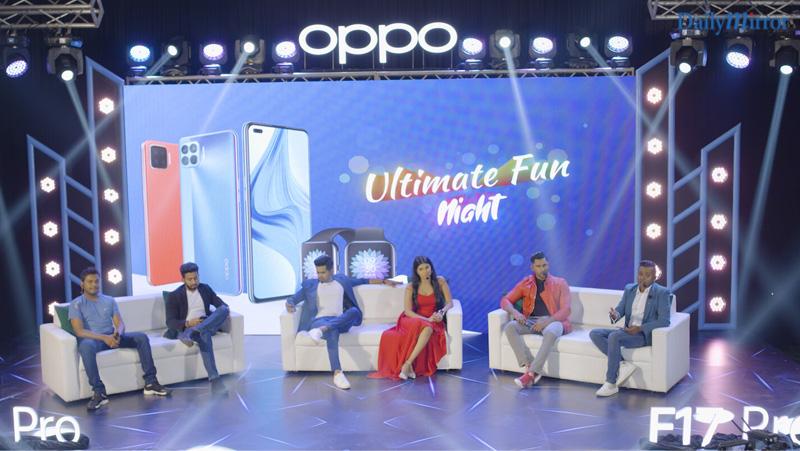 Today, OPPO launched the latest OPPO smart phoneF17 Pro in Sri Lanka at an entertaining and exciting On-line launch. The event also saw the participation of a string of Sri Lankan youth icons and a top tech blogger in the country. The On-line Launch itself was a success and a milestone in the annals of digital landscape in Sri Lanka as it probably was the first ever 'Private Event Live Streaming' in Sri Lanka for a Mobile brand to have the highest number of 'Concurrent Viewers' Watching LIVE. Produced exclusively for Digital it was the First Launch Event with the first ever Simulcast for a private event across 15 channels and 2 platforms - Facebook & YouTube with Full HD Streaming.
OPPO F17 Pro introduces fashionable technology along with functions which make life more efficient that can keep up with the pace of fast lifestyle, all packed into an Ultra-Sleek smartphone body of a truly premium design.
Along with F17 OPPO Sri Lanka also launched the much awaited OPPO Watch - water resistant and powered with Wear OS by Google as well as OPPO Enco W51, the first active noise cancellation (ANC) true wireless headphones under OPPO Acoustics.
"F Series has been designed so that the trendsetting generation can attain a quality smartphone that suits both their life and personal sense of style, and with a sleek design that you won't be afraid to flaunt outdoors" said Bob Li, CEO Xinda Lanka (OPPO Sri Lanka). "Designed based on consumer research, F17 Pro ticks off all the right boxes for a phone that boasts AI cameras to deliver breathtaking portrait photos, and the latest generation of VOOC Flash Charging technology to ensure that your phone won't hold your lifestyle back" he added.
Ultra-Sleek Body with a Premium Design
Designed with a 7.48mm Ultra-Sleek Body that easily slides into a pocket and jacket without the bulge, or tucks neatly into a small bag or clutch OPPO F17 gives the premium experience like no other. To achieve a category leading 7.48mm ultra-thin and 164g ultra-light weight body, F17 Pro uses an industry-leading design to optimize and fit the mainboard, battery and other components into its slim design.
To ensure that users are fully immersed in their content, F17 Pro's 6.43'' dual punch-hole display comes with a brilliant FHD+ Super AMOLED Display with a large 90.7% screen-to-body ratio. The display uses Mini Dual-Punch Holes that boast the industry's smallest camera diameter of only 3.7mm, and ensures that the phone screen's real estate is maximized so that a video game could be fully enjoyed whilst being able to see every detail in a shot.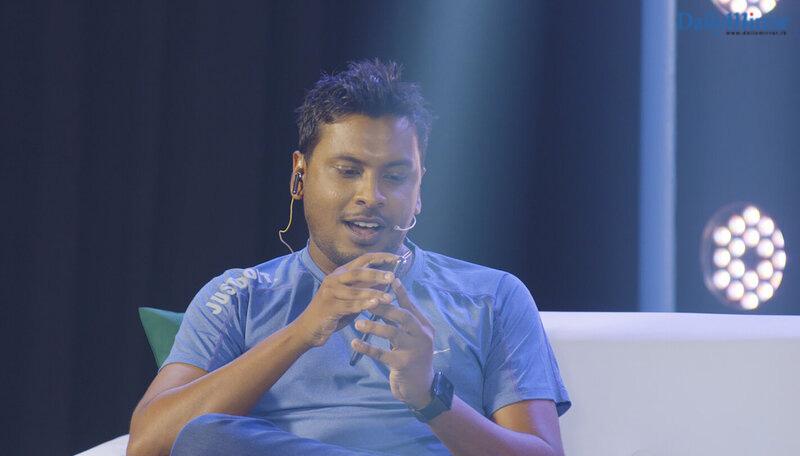 F17 Pro's look isn't complete without a trendy back cover design. F17 Pro introduces Shiny Matte, which sees the return of the shimmers and brilliant streaks of light. The design is not only has a premium feel that's soft to the touch and easy on the eyes, but is also fingerprint resistant. F17 Pro will come with the Shiny Matte texture in two colors. Magic Blue, showcases a unique blend of blue and purple colors and Matte Black, a color that screams prestige and is inspired by high-end automobiles.
Photography with Cutting-Edge Camera Technology
The front of the phone boasts a Dual Cam that empowers to take beautiful selfie portraits easily that uses hardware-level processing to add a Bokeh effect to a photo. In fact with Dual Lens Bokeh, not only portrait selfie photographs could be captured, but the feature has been upgraded to support both videos and multiple-people in the shot. With software-level AI processing, the finest of details on a person including their earrings and hair are accounted for and won't end up being blurred out in the final footage.
AI Portrait Color in F17 Pro enables one to capture fashionable urban street style photos or travel photos from a new perspective by making portraits pop with color. AI Portrait Color mutes the background colors black and white, while enhancing the natural colors of the person or a group of people within the photo using AI. AI Super Clear Portrait guarantees that even the finest facial details like the eyebrow are clearly represented, or can even be reconstructed, while AI Beautification 2.0 enhances the natural skin tone and adds fuller and more pronounced eye features on women. On men, AI Beautification 2.0 enhances their eyes, beard and eyebrows.
Also the AI Night Flare Portrait in F17 Pro is an OPPO-exclusive feature that combines the Bokeh effect and lowlight-HDR algorithms to capture artistic photos that adds beautiful night flares on portrait photos shot against the backdrop of city lights. AI Super Night Portrait makes sure that the selfie results in a brightened and clear shot even in low light conditions. On top of these features that will add a professional flair to photos, the third generation of Ultra Steady Video enables one to effortlessly film a vlog while walking down the street but ensure that the capturing is stabilized which results in clearer and sharper videos. Ultra Steady Video uses a hardware-software solution that combines the Electronic Image Stabilization algorithm with an embedded gyroscope within the front-facing camera which enables to capture the moment, on-the-go or even on-the-run, without the jittery footage.
Fast - Without Waiting on a Charge
30W VOOC Flash Charge 4.0, OPPO's proprietary rapid-charge technology can quickly charge F17 Proeven
ifthere is just five minutes to spare in between a meeting. With only a five minute charge, one can either get four hours of talk time, two more hours to browse Instagram, or 36 mins of PUBG gaming while it only takes 53 minutes to fully replenish the battery.
F17 Pro even introduces ways to optimize the phone's battery life. At night, AI Night Charging uses AI Learning through machine learning to learn the user's sleep habits and charge the phone exactly to 100% upon the moment they wake up from their slumber. In the worst case scenario, Super Power Saving Mode optimizes the last 5% of your battery life by turning the display black and white, while running just six predetermined apps.
A Fast, Convenient and Smooth User Experience
F17 Pro's optimized user experience starts with its powerful MediaTek Helio P95 AI chipset, 8GB of memory and 128GB of storage, which can be extended up to 512GB through a 3-Card Slot. F17 Pro's Anti-Lagging Algorithm can detect and clear data that cause memory errors, making stutters and freezes less likely.
F17 Pro will be available starting 17th October onwards in two colors including Magic Blue and Matte Black. The two colors will come with 8GB of RAM and 128GB of storage, which can be expanded to support up to 512GB through a 3-Card Slot. F17 Pro will be available for purchase at a retail price of LKR 69,990. Customers can preorder OPPO F17 Pro and get free Enco W11, OPPO backpack and 50GB anytime data for two months from Dialog.
Designed for life and crafted for a premium experience, OPPO Watch comes in 46mm with eSIM/LTE or WiFi, sculpted with a 6000-series aluminum alloy frame, with stunning Black or Glossy Gold finishes. With smart power management, OPPO Watch 46mm has a battery life of up to 36 hours.
Enco W51 will offer all the hot, in-demand features such as wireless charging, professional audio quality, ultra-low latency, and intelligent touch controls to create a dazzling comprehensive experience and perform ideally in any travel situation or windy environment. W51 will be extremely cost-effective, allowing the broader consumer market to enjoy a true wireless noise cancelling experience. OPPO Watch & the W51 wireless headphones will be available for purchase at a retail price of LKR 29,999 onwards & LKR 14,999 respectively whilst customers who preorder at Abans, Singhagiri, Dialog,Daraz on-line store and all authorized OPPO dealers island-wide will get a OPPO backpack.