---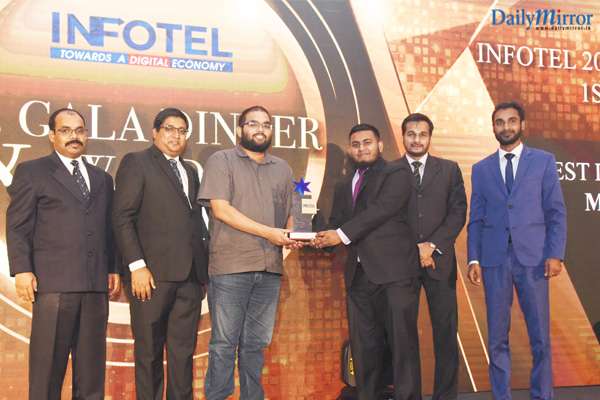 Mymed.lk Head of Sales & Operations Mr. Mohamed Nazeef Farook (Center) receives the Best Display Award for Mymed.lk Stall from Project Officer of ICTA Mr. AhamedNishard. Also Present (From left) Head of Innovation Pavilion Mr. FairoozHabeeb, Head of Startup Pavilion and CXO Forum and Vice President of FITIS Software Chapter Mr. Prasad Hettiarachchi , Vice Chairman FITIS Mr. Abbas Kamrudeen and Mymed.lk Head of Marketing & Business Development Mr. Abdul Basith.
Mymed.lk was recognized and awarded with 'Best Display Stall'at the 'Infotel Awards Night - 2018'held on the 28th of November at Shangri-La Hotel, Colombo. This award was given based on the participation at the recently concluded 'InfotelICT Exhibition 2018' held from the 2nd - 4th of November 2018 at the BMICH.The stall by Mymed.lkreflected the entity's vision and mission for the pharmaceutical sector of the country.
'Mymed',a start-up with an year in operation was founded on the key objective to make healthcare products and services easilyavailableto general public. It is the first of its own kind in Sri Lanka, and having identified the absence of an efficient solution to link customers totrustworthy local healthcare services and to deliver 'over-the-counter' medicine or refills, Mymed embarked on a mission to create an innovative and dynamic local medicine delivery platform by connecting with over 75 pharmacies and 6000 pharmaceutical products.
Mymed's hyper-local model addresses this social concern and market gap by connecting with pharmacy retailers in different locations across the country to ensure proximity to customers and guarantee on-time delivery of requested medicines.Further, with the objective to provide a complete digital service for the consumer, Mymed partnered with 'e-Channeling' -the largest doctor channeling network in Sri Lanka. This partnership enables customers to easily purchase medicine after consultation with a click of a button and get it doorstep delivered in a short time.
"The idea is to provide a platform that would enable a consumer to gain access to healthcare services at all levels, starting from having clinic visits and prescriptions recorded and stored, to ordering medicines online and having them delivered, to e-consultations with doctors, and scheduling diagnostic tests," states Abdul Basith, Head of Marketing and Business Development of Mymed.
"Mymed understands the value of customer's money and we constantly strive to bring it down by offering discounts or partnering with e-wallet providers for cash backs. We are currently offering up to 20% discount on medicine and over-the-counter products via Commercial Bank Cards," added Abdul.
Mymed has witnessed a remarkable journey of achieving key milestones and noteworthy success since its inception.At present, the platform successfully provides an efficient and effective mechanism to dispense a wide variety of essential healthcare productsthroughout the country by seamless connection between customers and local pharmacies.The platform also enables customers to obtain prescribed medicines with valid prescription and get it delivered within 4-6 hours within Colombo and suburbs. It also facilitates subscription for products and medicines with a plethora of payment options. Mymed has plans to expand its exceptional services and offermore customer centric solutions to address health related social concerns of the country.