---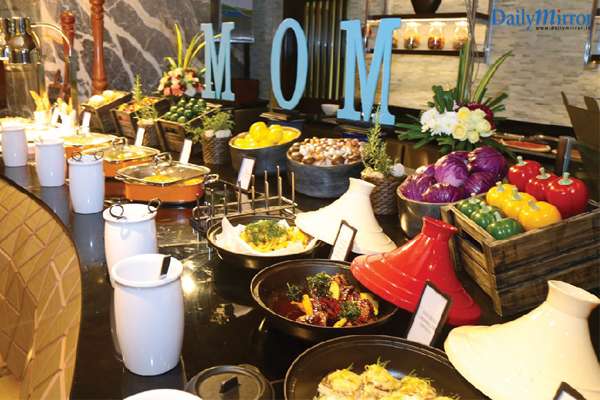 "Of all the gifts that life has to offer, a mother's gift is the purest of all!"Reserve the second Sunday in May to shower mom with the love and attention she deserves. After all the meals she has prepared over the years, treat her to a taste of the Graze Kitchen to celebrate her day. Impress her with a royal brunch fit for a queen on 13th May 2018!
Let her enjoy cakes or gift her a Mother's Day Hamper from Café Kai, be serenaded by the De Lanerolle Brothers, receive a gift pouch with luxurious GAIA products and indulge in the extravagant brunch buffet prepared by Executive Chef Kazi and his team. Who better than a team of international chefs to pamper her with the sweet and savory dishes of some fabulous choices including, but not limited to the international salad bar but a variety of cheese together with accompaniments, ocean fresh green lip mussels, clams, tiger prawns, oysters, crabsand salmon, a juice cart with fresh juices, honey comb in bottles to traditional Japanese favs which include salmon nigiri, chicken katsu roll and more. From the rotisserie, Australian meats and accompaniments, fresh pizzas like lobster and arugula pizza from the hot stone section, a la minute preps at the pasta corner; namely saffron gnocchi with lamb and sundried tomato. From the lava grill comes the salmon and prawn skewer, marinated pork chops and the like. From Turkey with love comes the shawarma roll and Baladi bread, Turkish mixed grill with an assortment of baked fish with anchovy, falafel and cheese spring rolls. Venture into the Asian section and mum could enjoy some Thai or Chinese favorites to clay pot curries and copper pot specialties Sri Lankan and Indian sections.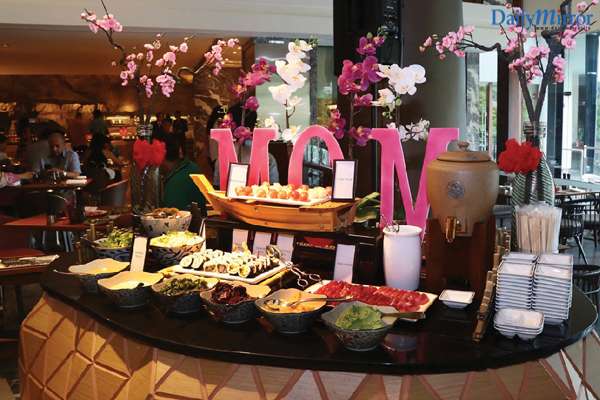 No need to save the best for last! The dessert station is right in front on the buffet, lined with mother's day specialty cakes, French pastries and flamed crepes with mascarpone and berries. Eating times begin at 12:30 p.m. and end at 3:00 p.m. Reservations can be made by calling the F&B Reservations Desk on 2492492. Pricing is Rs 4888 nett per person.
In addition, Mums get to enjoy a complimentary relaxing hand massage by GAIA Skin Naturals at the Pop Up Spa located in the Lobby. Special Mother's Day Hampers and novelty cakes will be available at Café Kai from the 11th to 13th May. Hampers require pre-ordering.