---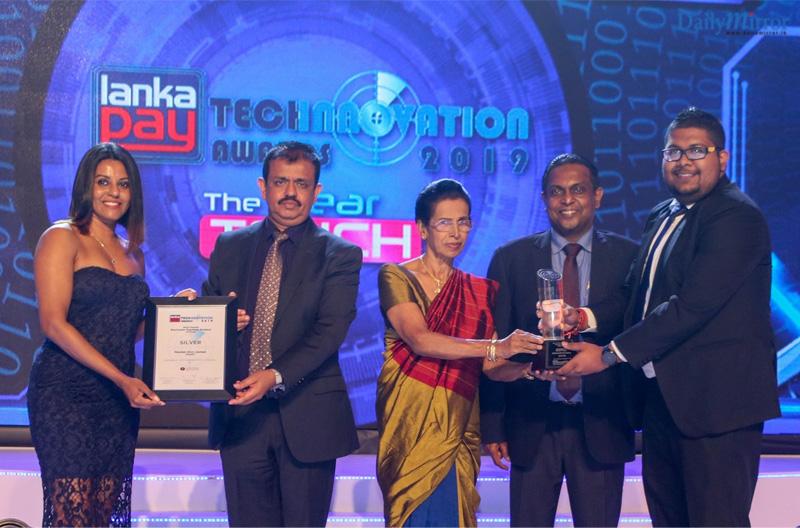 Rishani Gunaratne, Manager Mobile Financial Services, Mobitel, Mr. D. Kumaratunge, Director, Payments & Settlements, Central Bank of Sri Lanka, Ms. Priyantha Liyanage – Former Chairman, LankaClear (Pvt) Ltd and Former Assistant Governor of Central Bank of Sri Lanka, Mr. Channa De Silva, General Manager/CEO, LankaClear (Pvt) Ltd, Gayan Kalugamage, Assistant Manager, Mobile Financial Services, Mobitel
Recognizing the excellence in the Fintech Category, mCash, the leading Mobile money platform in Sri Lanka was bestowed with the Silver Award for 'Most Popular Electronic Payment Product' at the LankaPay Technnovation Awards 2019, which concluded at Shangri-La Hotel, Colombo recently.
Organized by LankaClear (Pvt) Ltd for the third consecutive year, Lankapay Technnovation Awards recognizes payment technology innovators who have successfully addressed the emerging consumer trends by taking customer convenience to new heights. mCash emerged victorious among Banks, Non-Banking Financial institutions and other Fintech Service providers, due to its unique approach in bringing an array of services to increase customer convenience.
The Award reflects mCash's leadership in the digital front. By embracing latest technologies, mCash has raised the bar for mobile money platform, thus transforming the Digital payments in Sri Lanka. With a vision to support Sri Lanka to embrace a cashless economy, mCash continues to evolve with new trends to cater to the rising demands and help transform a knowledge-driven economy into a digital-inclusive ecosystem.
Over the years, mCash has experienced immense growth with a growing business clientele and a customer base that continues to expand countrywide. In 2017, mCash won the "Online Brand of the Year" (Silver) at SLIM Brands Excellence and in 2019 mCash bagged 2 international awards "Most Innovative Digital Financing Product Sri Lanka" & "Digital Finance Partnership Sri Lanka" for 2018 from International Business Magazine.
mCash works in partnership with leading Corporates across various sectors in order to make its mobile payment platform available for enhanced convenience and speed in conducting financial transactions. mCash facilitates a wide array of financial services such as Deposits, Withdrawals, Sending & Receiving Money, Paying Utility & Institute Bills, Shopping, Online Payments, making charitable Donations, Digital Loan, Digital Standing Orders and robust B2B Business Solutions.