---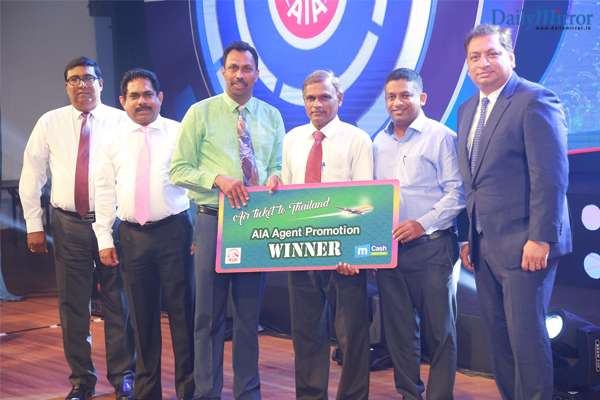 (L to R): Chaminda Adikari - Associate Director, Agency - AIA, Kelum Senanayake - Director, Operations - AIA, Upul Wijesinghe - Deputy CEO - AIA, Kalhara Gamage - GM, Mobile Financial Services, Mobitel and Pankaj Banerjee - CEO, AIA awarding a lucky winner of AIA Insurance.
The revolutionary mobile money platform, mCash, which is transforming the country's electronic payments landscape, recently rewarded 10 AIA Insurance Wealth Planners with a fully-paid tour package to Thailand, including air ticket and accommodation, while 6 others were rewarded with smartphones. This was the culmination of the promotional campaign conducted to recognize and reward AIA Wealth Planners who paid their premiums via mCash during 2018, widely considered a breakthrough solution in the insurance industry. The promotion was held over four months, during which 16 winners were selected through a raffle draw. AIA Insurance was the first to partner with mCash to introduce premium collections via a mobile wallet through their Wealth Planner Network.
mCash has partnered with AIA Insurance for more than four years and played a pivotal role in collecting AIA Insurance Premiums via mCash. It is also proving to be a boon for Wealth Planners or insurance agents due to its ease of use and value addition benefits offered by mCash. Some of the value additions an insurance agent receives for conducting insurance premiums via mCash are additional revenue income for themselves as they receive a commission when they perform a premium payment via mCash. The service provides instant payment confirmation via SMS and Real Time Payment update for customers' peace of mind. Wealth Planners also find this convenient because not only does it give them confidence, it also leads to reduced risk of carrying cash while opening additional avenues for earning more revenue. Digital technologies are transforming the insurance landscape and mCash's unique arrangement with AIA Insurance has not only empowered the insurer but also placed it at the forefront of the industry as a company that truly incorporates technology to benefit its users and one that is streets ahead of competition.
Apart from extending financial inclusion, mCash has redefined the way consumers carry out transactions with the use of a mobile phone. mCash has experienced immense growth over the last few years with a large clientele and growing customer base that continues to expand countrywide. Mobitel's mCash has transformed the mobile money concept in Sri Lanka by introducing innovative features, and constantly creating ways in which mCash can be more inclusive and adapted to customer lifestyles.