---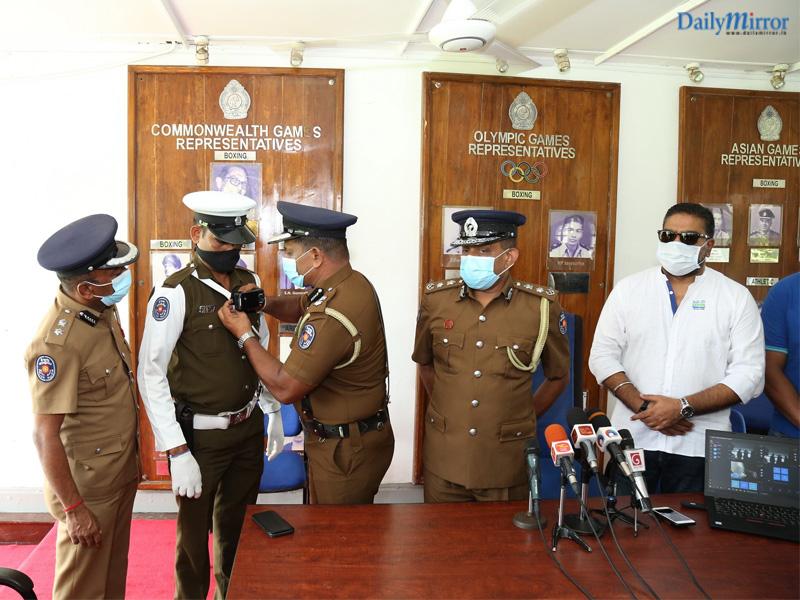 From Right – Nalin Perera, CEO, Mobitel (PVT) Ltd., Senior Deputy Inspector General (DIG) of Sri Lanka Police - Deshabandu Tennakoon, Western Province and Traffic - SP Kamal Pushpakumara, Director City Traffic along with other Police Officials.
As part of supporting the nation's fight against COVID-19, Mobitel, Sri Lanka's National Mobile Service Provider introduced the latest Body Cameras to Sri Lanka Police at an event held at the Police Park Headquarters recently. The landmark event which took place under the patronage of the Senior Deputy Inspector General (DIG) of Sri Lanka Police, Deshabandu Tennakoon had the presence of officials representing both the Police and Mobitel (PVT) Ltd.

Further, Mobitel also made a financial contribution to support the ongoing efforts of the Police in curtailing the spread of COVID-19 along with food packs meant to be distributed among Police personnel who are managing checkpoints for hours to safeguard the people of Sri Lanka. Mobitel believes that Sri Lanka Police need to be appreciated for their outstanding efforts and for tirelessly working around the clock to keep people safe. The contribution showcases Mobitel's unwavering commitment in times of national crisis to partner with the Tri-Forces and the Health Sector while simultaneously helping Sri Lankans avail of its diverse digital healthcare and superior mobile experience during this challenging time.

Mobitel is sharing the government's responsibility in facilitating the safety of citizens at this critical time through a variety of other digital measures. As the caring network provider, Mobitel introduced numerous packages ranging from special Pre-Paid plans to Bonus Data add-ons, Free Health Advisory services, Digital Payment solutions, Data extensions and many more to help its customers to carry out their day to day activities without any hassle. Furthermore, both local and international organizations such as the World Health Organization (WHO), UNICEF, and Sri Lanka Health Promotion Bureau are leveraging on Mobitel's superior reach to communicate vital messages about COVID-19 to raise awareness across Sri Lanka. In a time of such a crisis faced by the nation, Mobitel will continue to remain as a pillar of strength and support not only its customers but the country as a whole.